September 25, 2008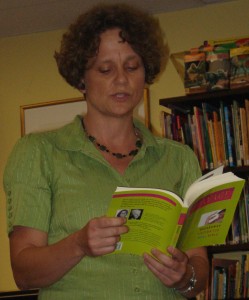 A full crowd gathered at the Canadian Children's Book Centre last night to celebrate the launch of Cleavage: Breakaway Fiction for Real Girls. We enjoyed mocktails and cool snacks before settling in for readings from five of the contributors to the book. Thanks to all for the enthusiastic response.
September 25, 2008
On October 16 at 7 pm, I'll join the staff of the Toronto Public Library to celebrate the launch of Young Voices 2008, the library's annual magazine for teen writing and art. As a guest editor of the magazine, I'm looking forward to congratulating the wonderful teen artists and writers whose work will appear in the magazine. Watch for the magazine to appear at your local TPL branch, or join us for the launch at the North York Central Library (5120 Yonge St.).
September 24, 2008
Teens are invited to a writing workshop on the theme of beauty and body image. Join myself and Patricia McCowan – authors from the short story collection Cleavage: Breakaway Fiction for Real Girls – at the Beaches branch of the Toronto Public Library on October 4 from 2 to 4 pm (2161 Queen St. East). Stories from the workshop can be submitted for posting at breakawayfiction.blogspot.com by emailing breakawayfiction@gmail.com.
September 11, 2008
I was invited to give a talk for CANSCAIP, the Canadian Society of Children's Authors, Illustrators and Performers. On September 10, I spoke about my recent exploration into the art of screenwriting and how it applies to writing a novel. If you're interested in screenwriting, two excellent books are Syd Field's Screenplay: The Foundations of Screenwriting and Robert McKee's Story: Substance, Structure, Style, and the Principles of Screenwriting.
September 1, 2008
Do you want to write for children or teens? Join me for a writing workshop on September 25, 2008, at Centennial College to learn how to generate ideas, develop believable characters, understand genres, edit your writing, and market and promote your work.