September 27, 2010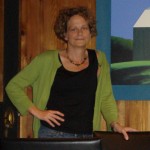 I just returned from a three-day writer's retreat. Do I look relaxed in this photo?
It's amazing how fast the time goes when writing. Three days are over in a blink. Writing a novel is such a time-intensive pursuit, while an eager reader can devour that effort in mere hours.
What's great about a retreat is simply having the quiet, empty space to ponder characters and to delve deeper into who they are, what drives them, what irks them, what moments will change their lives. And these characters do live. There's no mistaking it. They come to life in quiet writerly moments, and they continue to thrive in the minds of readers.
September 15, 2010
If you're interested in writing or illustrating for kids or teens, check out CANSCAIP's Packaging Your Imagination conference, an annual day of workshops by experts in the field. This year, the conference will be held at Victoria College in Toronto on Saturday, November 6th. As Vice-President of CANSCAIP, I'm spearheading the committee to organize the day, and it promises to be inspirational. With workshops on non-fiction illustration, cartooning, how to write graphic novels, mystery writing, and much more, you'll get excited about creating for kids. So book Saturday, November 6th in your calendar and register soon. See you there!