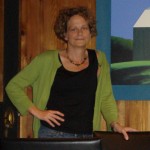 I just returned from a three-day writer's retreat. Do I look relaxed in this photo?
It's amazing how fast the time goes when writing. Three days are over in a blink. Writing a novel is such a time-intensive pursuit, while an eager reader can devour that effort in mere hours.
What's great about a retreat is simply having the quiet, empty space to ponder characters and to delve deeper into who they are, what drives them, what irks them, what moments will change their lives. And these characters do live. There's no mistaking it. They come to life in quiet writerly moments, and they continue to thrive in the minds of readers.