December 16, 2011
Too often, I hear boys talk about how they don't like to read. According to the Ontario Ministry of Education guide, Me Read? No Way! A Practical Guide to Improving Boys' Literacy Skills, "nearly 50 per cent describe themselves as non-readers by the time they enter secondary school."
Because of this trend, one of my goals when I wrote my latest novel, The Yo-Yo Prophet, was to write a book that young male readers would want to read. When I received this message from a mother of a 12-year-old, I was thrilled:
"My son LOVED The Yo-Yo Prophet and read it in record time. He even started playing with his yo-yo again and then recently made one. He highly recommends this book to his friends. It has initiated him reading every night at bedtime again and I am truly grateful for that."
Lynn E.
I'm so glad that The Yo-Yo Prophet inspired Lynn's son to read again, and that it encouraged him to get his friends' hooked, too. I hope that well-written books can repeat this pattern over and over again.
Finding literature to interest young male readers can be difficult, and some of us are guilty of picking books for boys that we think they ought to read, rather than books that reflect their interests.
James Moloney says in Boys and Books: "A good book for a boy is one he wants to read."
If you're looking for books for a young male reader, my suggestion is to take him to a bookstore and/or library regularly so he can pick books for himself. You can also encourage him to check out www.guysread.com, a website developed by author Jon Scieszka to connect boys with books.
Happy reading!
December 12, 2011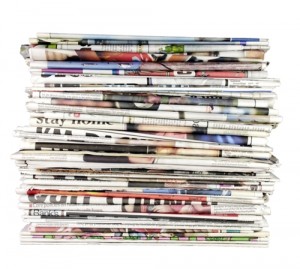 I'm pleased that two local newspapers have recently published articles about my new novel The Yo-Yo Prophet:
It's particularly meaningful to me to be recognized in the community where I live and write.
In an era where community newspapers are facing hard economic times, I'm grateful that these newspapers can showcase people, events and businesses in the local area. I particularly like how community papers make room for the "good news" stories of the day.
December 8, 2011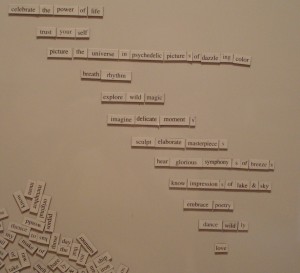 I have a secret fondness for magnetic poetry – not so secret if you've been to my home. On a wall in my kitchen, I have a 3′ by 4′ board with as many sets of magnetic poetry as I can find.
The obsession began slowly, with only the original version of magnetic poetry – which is a collection of tiny magnetic words, in case you don't know. I quickly needed more, leading to an injection of Shakespearean words, as well as Romance, Art and others.
I'm not sure that magnetic poetry is really useful for writer's block. I've never written a sentence using it that sparked a story or even a line in a story. But it does remind me to play with words, to treat them with irreverence, to stir them into new combinations. For me, that's an important thing to remember.
I also love seeing what messages people who visit my home might leave behind. These days, the word board speaks of a "frantic concrete flower" and how to "balance above a metaphor" – a tricky task.
It also instructs me to "breathe rhythm," "explore wild magic" and "embrace poetry." As for the latter, I think I already have.