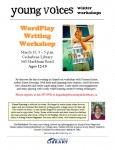 Re-discover the fun of writing at my hands-on WordPlay Writing Workshop for ages 12 to 19 on March 15 from 3 to 5 p.m. at the Cedarbrae Library in Toronto. With fresh and inspiring story-starters, you'll dive into new characters and create captivating scenes. Come spark your imagination and enjoy playing with words while learning creative writing techniques.
To register, contact Ken Sparling at 416-397-5970, or ksparling@torontopubliclibrary.ca.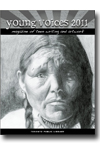 After the workshop, don't forget to submit your writing to Young Voices – the Toronto Public Library's annual magazine of teen writing and art. Poems, stories, rants, reviews, illustrations, and photography are all accepted. The submission deadline is March 31, 2012.
For guidelines and how to submit, click here. To read the Young Voices 2011 Magazine, click here.
Interested in more workshops? Check out the upcoming Young Voices Art Workshop with illustrator and teacher Michael Brown and the Young Voices Poetry Workshop with Matthew Tierney.