Last week, hundreds of librarians met up in Toronto for the Ontario Library Association's Super Conference 2012.
I attended to sign copies of The Yo-Yo Prophet at the Orca Publishers booth. I also I joined 34 other authors to present the book at CANSCAIP's annual OLA book launch for Canadian children's books.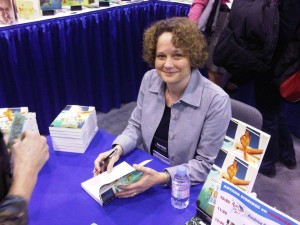 It was great fun to meet so many enthusiastic librarians. I can chat all day with people who share my love of quality books for kids and teens.
I also learned some exciting news at the conference. Each year, the OLA Best Bets Committee selects the top Canadian picture books, fiction and non-fiction for children, and fiction for teens. I'm pleased to announce that The Yo-Yo Prophet is a 2011 OLA Best Bets Honourable Mention. For the full list of titles, click here.