My community of writing friends has always been important to me, particularly the members of my writing group. For over five years, we've been meeting once a month to critique one another's works-in-progress. I've learned a tremendous amount from every member of my group – from their comments on my writing as well as from how they approach their own writing – and I'm fiercely proud of their talents. Over the last year, two of those writers have published their first novels, and I can't resist showcasing their fine work.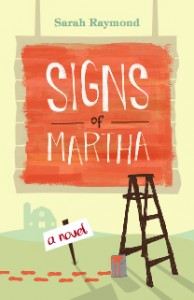 Sarah Raymond's YA novel, Signs of Martha, is a fast-paced read with a quirky cast of unique characters. In it, 16-year-old Martha Becker is a daydreaming pickle-grower with an artistic bent. When a zealous sign painter lands in Martha's agriculturally-inclined world, she finds a dream, a mentor, and a whole lot of trouble.
I guarantee that this book will have you laughing out loud as well as worrying for Martha as she gets herself in trouble by painting opinionated signs about her neighbours and friends in her rural community. Sarah has created a stellar cast of characters with dialogue that suits them perfectly.
What I learned from Sarah is how to revise. Sarah can wonderfully re-envision a scene over and over until she finds the ideal mix of ingredients to create a masterful story. I think of Sarah when I need to ditch a troublesome scene and find the insight to completely re-imagine it in a new and exciting way.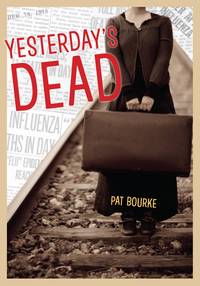 Pat Bourke's novel for children ages 9 to 14, Yesterday's Dead, is a perfectly paced historical fiction with finely crafted, likable characters. It's about 13-year-old Meredith Hollings, who travels from small-town Port Stuart to Toronto to work as kitchen help in a doctor's home to help support her family. She hopes to train as a teacher one day, but when Spanish Influenza invades Toronto, Meredith may have to give up that dream forever.
This compelling novel brings history alive, with realistic dialogue, believable characters, and insightful historic details about the harsh realities of the Spanish Flu epidemic in1918 Toronto. A detailed teacher's guide is also available for Yesterday's Dead.
What I learned from Pat is how to meticulously craft every word. While I'm busy imagining the full breadth and scope of my work-in-progress, Pat is reminding me to pay attention to details. I think of Pat when I dive into the nitty-gritty of how each sentence is constructed.
When any member of my group achieves a success – from a well-written scene to a published book – we all celebrate. Yet I'm also grateful for the behind-the-scenes look I get into how they craft their words.
I can't wait to see what my writing group will produce next.