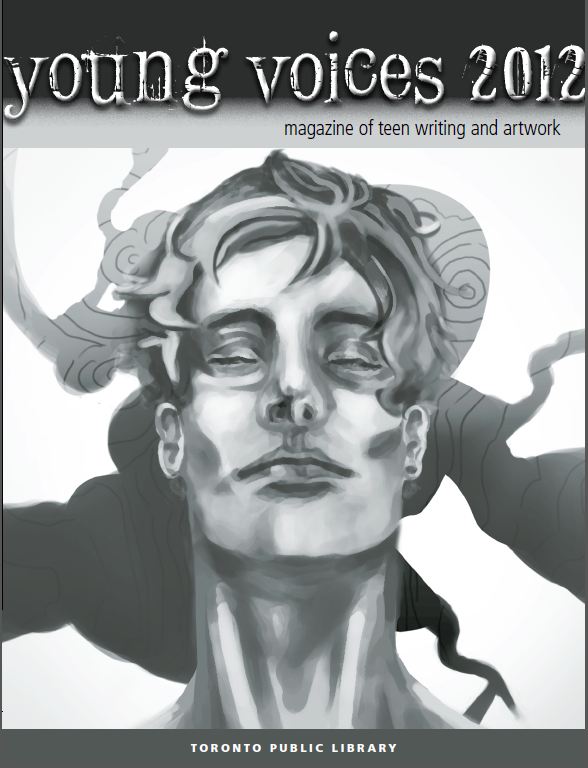 Exciting news! Young Voices 2012 – the Toronto Public Library's annual magazine of teen writing and art is now available at your local Toronto library branch. As an editor of this magazine for six years, I'm particularly proud of the diverse talents of Toronto's teens showcased within these pages.
Selecting contributors for the Young Voices magazine is great fun and hard work. I love digging into the pile of writing I receive, exploring the insights that these teens have put to paper. And I love hashing out who the finalists will be with the members of the Editorial Youth Advisory Group. Most of all, I love congratulating the contributors to the magazine at the Young Voices launch party – held this year at the North York Central Library on Thursday, October 11 at 7:00 p.m.
Thanks to my group of enthusiastic editors for an evening of friendly arguments, loud disagreements and finally mutual understanding as we came to terms over which pieces to select for the magazine. Thanks to the staff at the Toronto Public Library who give Toronto teens this fantastic opportunity.
I hope that acceptance in Young Voices makes the contributors stand a little taller and feel more confident about their unique voices and the insights they have to offer.
Don't forget – it's never too early to think about next year's magazine! Check out the submission guidelines and deadline here.