I'm pleased to announce that my contemporary middle-grade fantasy novel, titled Bog, will be published in Spring 2014 with Fitzhenry & Whiteside! I'm thrilled to be working with the talented Christie Harkin – a publisher with enormous passion for her titles.
Writing Bog has been a lesson in tenacity. It's a book that's immensely meaningful to me, yet writing it was grueling. I first conceived it in 2004, so it will be ten years, and a multitude of drafts, until it will be published. As Walter Wellesley "Red" Smith famously said, "There's nothing to writing. All you do is sit down at a typewriter and open a vein."
Want to know more about Bog? Here's a sneak peak.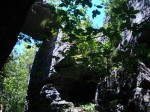 What is Bog about?
Deep in the forests of Northern Ontario, a cave troll named Bog has spent his young life hunting with his father, Jeddal, learning what it means to be a troll, and avoiding humans whenever possible. Until someone called the Troll Hunter begins turning trolls to stone, and teaching other humans to do it, too. When the Troll Hunter's followers turn Jeddal to stone, Bog learns a dark secret about his origins that his father had tried to keep hidden: Bog is half-human.
Struggling with this news, Bog sets out after the Troll Hunter to avenge his father. On his quest, he's joined by a large forest troll named Small and a human girl named Hannie, who would rather pretend to be a troll than return to her abusive father. As they venture deeper in human territory, Bog learns of the legendary Nose Stone, a rock rumoured to bring a stone troll back to life. When the Troll Hunter seeks to destroy both the Nose Stone and Bog, his quest becomes a race of cunning, trickery, and wits.
Where did the idea come from for the book?
I first conceived Bog after the attack on the World Trade Center in New York City and the ensuing war on terror. I wanted to write about cultural bias fostered by learned hatred from previous generations. But the novel is also a reaction to ethnic conflicts the world over – anywhere where there is hatred against another culture instead of acceptance and understanding of differences.
Why write about trolls?
I chose trolls because, in literature, they're traditionally considered vile to humans. The point of view of a troll character sets up humans as "monsters," asking what morals and values makes us human versus monster. For me, the novel explores what it means to be human as well as the journey from hatred to tolerance.