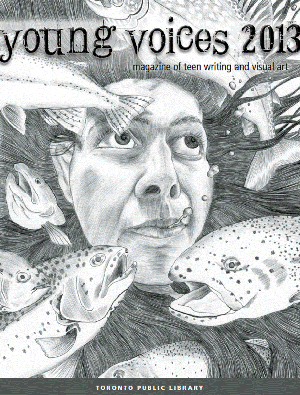 It's coming! Young Voices 2013 – the Toronto Public Library's annual magazine of teen writing and art – will soon available at your local Toronto library branch. As an editor of this magazine, I'm  proud of the talents of the Toronto's teens showcased each year. You can also download a copy of the magazine here.
Art, photos, stories, poems, rants, and more – you'll find it all within these pages. Young Voices  gives the writers and artists of tomorrow an opportunity to publish their creations today.
Thanks to my group of enthusiastic editors from the Editorial Youth Advisory Group for an evening of friendly arguments, loud disagreements, and finally mutual understanding as we determined which pieces to select for the magazine. Thanks to the staff at the Toronto Public Library who give Toronto teens this fantastic opportunity.
This year, the Young Voices launch party  will be held at the Toronto Reference Library on Tuesday, October 8 at 7:00 p.m. I hope the event will inspire these teen creators to continue to pursue their writing and art.
Don't forget – it's never too early to think about next year's magazine! Check out the submission guidelines and deadline here.