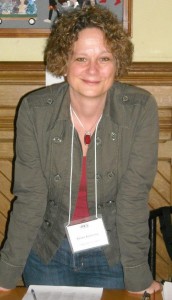 Last week, I retired as President of CANSCAIP – the Canadian Society of Children's Authors, Illustrators and Performers. I've spent the last four years volunteering, first as Vice-President in charge of the annual Packaging Your Imagination Conference in Toronto, and then as President, overseeing all CANSCAIP programming.
I'm a born organizer, so I knew I could do some good for an organization that I value. But I also chose to volunteer for personal reasons: to get to know more people in my industry and to practise my public speaking, since I'm an introvert at heart.
I certainly achieved both my personal goals, and I hope that I left CANSCAIP better off.  Here's what I learned from my volunteering experiences:
The more often I speak in front of a crowd, the easier it gets.
Listen to people. Fresh ideas can be found through conversation.
Filter ideas and opinions to figure out what's next.
Attend industry events – even ones that don't seem immediately relevant. New connections and insights lurk there, waiting to be discovered.
Efficiency is the key to getting it all done.
Creativity can be stifled by too much efficiency.
Ponder knotty problems for a few days to allow solutions to emerge.
Trust that I'll be able to find a solution, no matter how challenging the problem.
Nurture the growth of others. Celebrate success everywhere.
Acknowledge how high we've climbed, even if the journey is still in progress.
Community feeds creativity and personal growth.
I'll still be Past-President for two more years, mostly mentoring new volunteers. And I'll try to approach it the same way I started – with a willingness to stretch and grow in new, exciting ways.