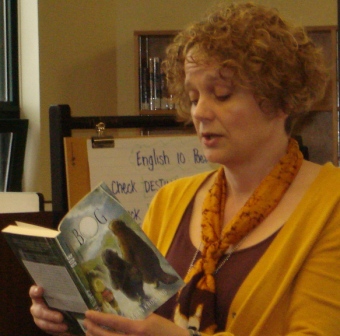 I'm just back from Vancouver, where I toured local schools and libraries, giving writing workshops and readings. TD Canadian Children's Book Week is a national celebration of books and reading, organized by the Canadian Children's Book Centre. For one week, touring authors and illustrators bring the magic of books and reading to over 25,000 children and teens. I was thrilled to be able to connect with readers during Book Week – and to go looking for trolls in the forests of western Canada (in honour of my latest novel Bog).
"What else would you have become, if not a writer?" asked a teenager sitting at the back of one of my readings.
"Well," I responded, "my career aptitude test in high school said my ideal job would be a long-distance truck driver."
Laughter.
"It's a true story," I said. "I think it's because I like solitary work."
But TD Book Week is about connections, not solitude, and I was happy to leave my writer's den to meet hundreds of teens, kids, and adults in Vancouver, Surrey, and Richmond.
One memorable moment happened during a workshop with a grade 6 class of keen writers. We were writing based on personal experiences, and the topic was scars – both the visible and the invisible kind. One girl read her piece about her father, who had undergone open-heart surgery a year earlier. Her touching description of his physical scars and her inner scars from the scare of losing him brought tears to more than one person in the room. It was an honour to listen to the kids' writing.
In another memorable moment, I shared a comic book I made as a kid with grade 4-6 kids, mostly because it shows that I had ordinary talent and that the craft of writing can be learned through practice. One boy came up to me after my presentation and asked to read the comic book. The teachers told me later that he was autistic and usually non-verbal. But that day, he chatted with me about the comics and laughed over each page.
"How does it feel to be nominated for an award for your book?" one girl asked. Although an award is validation that I've written a good book, my best reward is connecting with readers. Thanks to the Canadian Children's Book Centre for the opportunity to do just that.