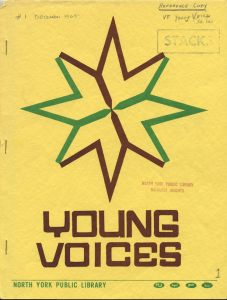 I've been a guest editor of Young Voices Magazine – the Toronto Public library's magazine of teen writing and art – since 2007, and it never gets old. Last night, I helped to celebrate the 50th year of publication; so  maybe the magazine is old, but the celebration is young, vibrant, and enthusiastic.
Just think about it! Fifty years of publishing great writing and art by teens! How many magazines can boast that? For a glimpse of the first edition of the magazine, click here.
The launch featured a message from Poet Laureate of Toronto, George Elliot Clarke, who said, "Toronto's young writers and artists will continue to praise beauty and critique wrongs, starting right here, in 2015, and continuing right on to 2065 and beyond!"
It's my pleasure to read submissions by Toronto teens with my group of teen volunteers. It's an even greater pleasure seeing the newly published teens on stage, reading from their pieces and sharing the inspiration for their works of art. Like the cover artist for the 2015 magazine, who talked about how an incident in grade 7, in which a classmate was struggling with gender, inspired her piece about pride in oneself and self-acceptance.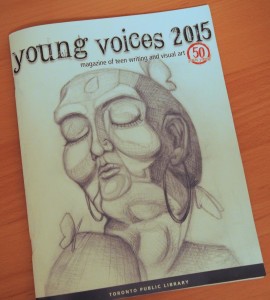 Out of respect for the youth, I can't take photos or videos of the launch, but let me tell you that there was a lot of talent in that room. I love meeting proud family members, and shaking the hands of the writers and artists of tomorrow.
So please, if you know Toronto teens who love to create, steer them toward this magazine. Anyone can pick up a copy of the 2015 magazine at any branch of the Toronto Public Library. And submission guidelines for the 2016 magazine are here. As a bonus, Toronto teens can now get their writing critiqued by E-writer-in-residence Eve Silver. To follow, Eve's post, go here. Write on!