Note: In August, I posted about my decision to return to school for a Masters in Writing for Children and Young Adults at the Vermont College of Fine Arts (VCFA). You can read that post here. I'll be posting about my journey regularly, so check back for updates.
In January 2018, I'll travel to Montpelier, Vermont, for my first ten-day residency. I hear that it's a magical whirlwind of lectures, workshops, and readings from morning till night. I hear that I'll meet like-minded writers eager to learn more about craft. I hear that I'll form life-long friendships and be changed in ways I can't yet imagine. Bring it on!
After the ten days, I'll return home to work on my critical and creative projects from a distance with my faculty advisor for my first semester. I'm very happy to announce that this semester will be a picture-book intensive, which you can read about here. I'll be studying with four other MFA students, a faculty advisor with an expertise in picture books, and a professional illustrator.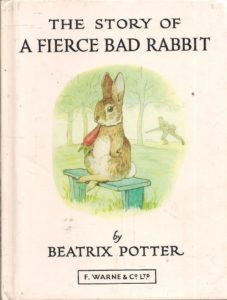 Like most children, my enchantment with literature began with picture books read aloud to me by adults. As a young girl, I "read" The Story of a Fierce Bad Rabbit by Beatrix Potter to myself long before I could make sense of letters on a page. I liked to capture members of my family and recite my version of the story, over and over. In the book, Potter portrays a fierce, bad rabbit who bullies a nice rabbit and steals his carrot. At a young age, I could already relate to the bullying. Yet what fascinated me was how a man with a gun comes along and shoots at the fierce, bad rabbit. This rabbit ends up with no tail or whiskers, and the nice rabbit avoids the hunter's gun. There will be justice in this world, Potter's book told me, although you may not get your carrot back.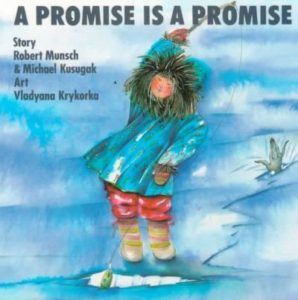 When my own children were young, I read them too many picture books to count. Now that they're twentysomethings, we still find time to read aloud new books I bring home, and we regularly quote from old favorites. "A promise is what you were given and a promise is what you got," my partner will sagely say, based on A Promise is a Promise, written by Robert Munsch and Michael Kusugak, illustrated by Vladyana Krykorka. "Strength is for the wise, not the reckless. –More cake, please," my daughter will recite, quoting young Patrick Edward in Monster Mama by author Liz Rosenberg and illustrator Stephen Gammell. Picture books built the foundations of my joy in reading and, later, in writing. As children's poet Charles Ghigna wrote, "It is the joyous power of picture books that turns young listeners into readers and readers into writers."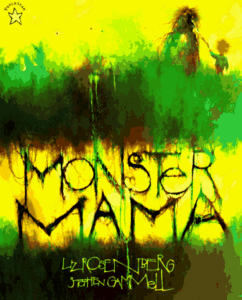 Although picture-book writing is an art I've admired for many years, I've only begun to experiment with the form recently. With this semester, I hope to learn skills that'll apply to both short-form writing (the sound of language, how to think in pictures, economy of language) and long (story structure and depth of characterization using few words).
I've been prepping for my first semester by reading at least one book by each of the VCFA faculty. It's been a wonderful exploration, and a great way to get to know them from a distance.
As I count the days until it starts, I'm sure the semester will be full of trials and joys. Will I get across the Canada-US border without trouble? Will the winter driving in Vermont be treacherous? How will I adjust to residence life? Will the workload overwhelm me?
All I know at this point is, when I talk to recent grads of the program, they tell me they'd gladly start the whole process again, if they could.