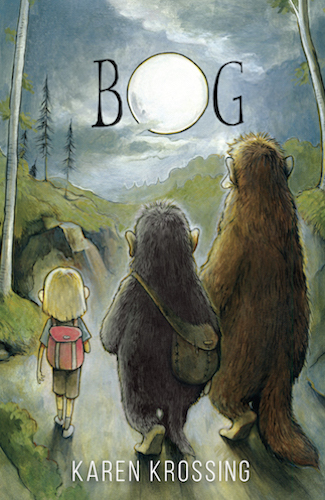 Crystal Kite Winner
$11.95
Publisher:

Fitzhenry & Whiteside

Available in:

Paperback, eBook

ISBN:

978-1554553150
Fitzhenry & Whiteside
Indie Bound
Amazon.com
For ages 9 to 14
Bog smelled the humans from across the lake. The stench floated high on the breeze, infecting the stars themselves, and then settled among the branches of the birch trees. What were humans doing in their hunting grounds?
In the midnight forests of the north, a cave troll named Bog has spent his young life hunting with his father and avoiding humans whenever possible. When his father is mercilessly turned to stone by the Troll Hunter's followers, Bog sets out to find the murderers and avenge his father. But with no leads and little knowledge of the human world, Bog knows his journey won't be easy. Along the way, he meets a huge forest troll named Small and a young human girl named Hannie. Together, they venture deeper into human territory, where they learn of the legendary Nose Stone—a rock rumoured to bring a stone troll back to life. Hope fills Bog's heart, but when he discovers the Troll Hunter is also going after the Nose Stone to destroy it, his quest becomes a race of cunning, trickery, and wits.
Winner of the 2015 SCBWI Crystal Kite Award in the Canada division.
A 2014 Ontario Library Association Best Bets selection.
A 2015 Canadian Children's Book Centre Best Book for Kids and Teens.
Media
Listen to an excerpt from the novel here. View the full cover art by Quebec artist Félix Girard here. Read an author interview on the Enchanted Inkpot here.
Reviews
"Bog is an irresistible character—grouchy but sweet, deeply flawed but deeply noble. I didn't want his quest to end. Funny, inventive, and full of heart, this is undoubtedly Krossing's best book yet."
Lena Coakley, author of Witchlanders
"Karen Krossing's latest novel is a commentary on difference and otherness, and a hopeful tale about the bridges that empathy can build over these impasses. Seen through Bog's eyes, humans are the monsters, trolls are the good guys, and the epitome of beauty is strength, a bumpy nose, coarse skin and wild, dark hair … If you can read this novel and not wish you were a troll boy frolicking in the woods, you're a better human than me."
Cultural Eclipse, Emily Pohl-Weary, author of Not Your Ordinary Wolf Girl
"The author has created an intriguing, fantasy world of deep forests, magic, and friendship…. Readers will be delighted with this parallel world set in modern times…. Kids will identify with Bog's struggles and challenges."
School Library Journal
"Bog is a well-written and intriguing allegory that delves into many of the tougher questions of life. Krossing uses magic, mystery, and humour to draw readers in, and she employs an engaging protagonist and cast of characters to take her readers on a journey of discovery. Highly recommended."
CM Magazine

"Bog is an engrossing story beautifully told. The language and style are as rich and intoxicating as the smell of woodsmoke drifting through the forest on an autumn night. Although the action is fast paced, Krossing doesn't hesitate to slow things down to paint evocative pictures of the setting and characters, creating a fully realized fantasy world that's seamlessly blended with the real one…. If you're not won over by this charming tale, you might be, like Bog's father, made of stone."
Canadian Children's Book News
"Bog is a most fascinating, yet complex character that the reader can sympathize with and enjoy how the author intertwines First Nations lore with other legends. This is unquestionably a narrative that will captivate, entrance and transport a reader into the realm of magic and myth! Highly recommended for grades 3; 4; 5."
Recently Read
"Bog is a well-written and well-crafted adventure with a flawed yet likeable main character set in a believable other-world. The plot clicks right along; it will hook and enchant even reluctant readers."
Getting Kids Reading, Joyce Grant, author of the Gabby books
"I fell in love with Bog … both the character and the book. Bog is a wonderful middle-grade fantasy about a grouchy troll on a great quest. Now I want to be a troll, too. My favourite Karen Krossing book so far."
Inkygirl, Debbie Ridpath Ohi, illustrator of NAKED!
"Bog is a sympathetic hero with a kind heart and muddled emotions whose true quest is his struggle to live his life with honour and compassion. His journey of discovery is an exciting adventure story set in an exotic, unfamiliar world where trolls and humans have surprisingly similar challenges to overcome."
Readerly, National Reading Campaign
"Bog is a brilliant story that is relatable at all ages….For fans of Roald Dahl, [those who] love to read middle grade fantasy, and anyone in need of a good adventure!"
The Passionate Bookworms

"Bog is a delightful story for both the young as well as the young at heart! With such a charming array of characters you will be quickly pulled into the happenings and lives of all. With many ups and downs, you will find moments filled with edge of your seat excitement balanced by moments of pure warmth. This is a little book with BIG heart. I will be reading it again. Five stars."
Melissa Fry Beasley, Goodreads review