Orca Book Publishers, for ages 12 plus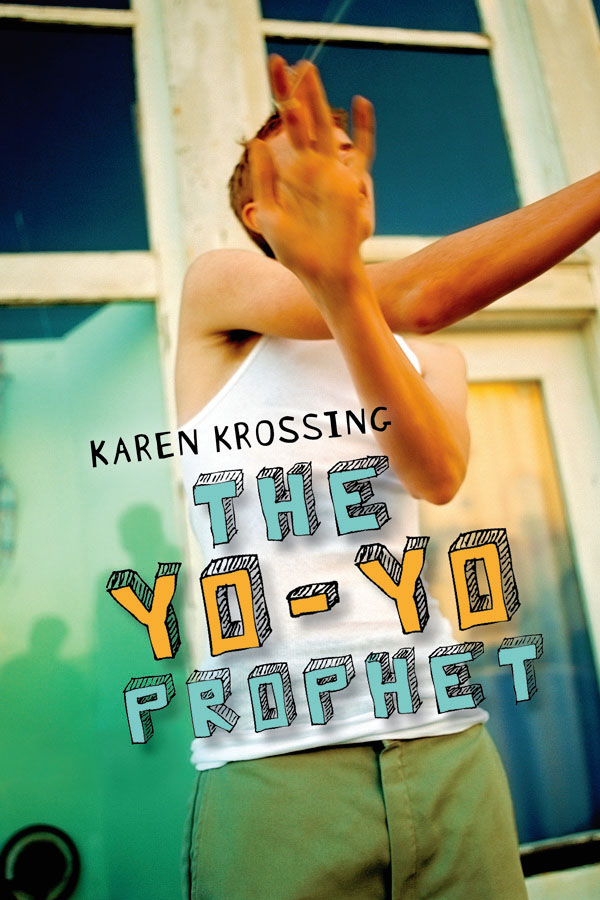 I can't resist tossing a few simple tricks – rock the baby, elevator, tidal wave. My hands whir, my arms loosen up. I've only practiced at home, but this feels pretty fine. I take up more of the sidewalk. People weave around me, staying clear of the yo-yo as it extends and then glides back. There's only me and the yo-yo working with the noise and confusion of the streetcorner.
Fifteen-year-old Calvin Layne is the smallest guy in his high school, and a perfect target for Rozelle and her girl gang. His mother is dead, his father is long gone, and his only remaining relative, his grandmother, is getting too sick to run her dry-cleaning business. The only time Calvin feels in control is when he's working his yo-yo. When he takes up street performing, Rozelle demands a cut and insists on being his manager. To get media attention, she markets him as a yo-yo genius who can predict the future, dubbing him the "Yo-Yo Prophet." Calvin begins to believe his own hype, but as Gran's condition deteriorates, he realizes that it will take more than fame and adulation to keep his family intact.
A 2011 Ontario Library Association Best Bets Honourable Mention.
Selected by the Canadian Children's Book Centre as a Best Book for Teens.
A 2011  CYBIL Award nominee.
Media
To read an excerpt from the book, click here.
Reviews

"I love Krossing's style of writing. The way she uses words and how everything is vibrant and well-stated creates clear pictures in her reader's mind…. Krossing is able to capture Calvin's love of yo-yo tricks on a visceral level, and even though I have little experience with a yo-yo myself, I felt Calvin's profound satisfaction at being able to complete the tricks and put on a show for his audiences. Krossing is a wonderful story-teller and I can't wait to read more of her books."
Amy's Marathon of Books

"Krossing weaves a well-paced coming-of-age story with a diverse set of finely drawn characters. Calvin's awkwardness, Rozelle's brash style and her friend Sasha's jealousy feel authentic, and Calvin's attempts to remain true to himself while negotiating high school and the larger adult world will ring true for many young readers. Readers will root for Calvin as he tries to hold his family together while making difficult choices and will be rewarded by a satisfyingly happy ending. Best of all, Krossing's descriptions of yo-yo tricks are vivid and tangible enough to make some readers reach for a yo-yo of their own."
Canadian Children's Book News

"[An] innovative plotline coupled with superior character development. Highly Recommended."
Canadian Materials
"Krossing paints vivid and believable portraits of her main characters and keeps the action flowing, especially in her descriptions of Calvin's performances. She manages to convey the intricacies of the [yo-yo] tricks and Calvin's joy in mastering them while moving the narrative briskly along. It all adds up to a captivating and believable portrait of a young boy coming of age."
Kirkus Reviews
"Krossing's depictions of the many pressures Calvin is under, as well as his relationship with his grandmother, feel especially intimate and authentic. It's a clever and quiet coming-of-age story about developing confidence and doing what's right."
Publisher's Weekly
"My son LOVED The Yo-Yo Prophet and read it in record time. He even started playing with his yo-yo again and then recently made one. He highly recommends this book to his friends. It has initiated him reading every night at bedtime again and I am truly grateful for that."
Lynn E., parent

"Calvin is a likable character who is struggling to keep it together under the mounting stress, the relationship between Calvin and his grandmother is realistically portrayed, and the eventual resolution with Calvin's dad feels authentic. Meanwhile, the yo-yoing scenes are surprisingly vivid and keep the action moving. Readers will root for Calvin to stand up to Rozelle and triumph in the end."
Booklist (American Library Association)
"I really enjoyed this novel. Calvin is a young man who is thrust into a lot of responsibility and I think he handled it really well. His fears about bullying and his difficulty with being abandoned by his father after his mother dies are realistic and heartbreaking. This is a good book for middle school boys or young teens. I think reading the descriptions of Calvin's yo-yo performances will make kids want to dust off their old yo-yos and learn the tricks."
Libraries and Young Adults
"The urban characters are diverse and the relationships feel authentic. Krossing's descriptions of bullying are powerful. Students 7th grade and up will connect with this story about finding our real family and owning our actions."
Southwestern Ohio Young Adult Material Review Group
"Calvin is a strong young man whose resilience and growth through the book will endear him to caring readers. Recommended for middle and high school libraries."
Tri State Young Adult Book Review Committee
"Krossing's light, straightforward style presents the "big" issues of bullying, self-discovery and loyalty in accessible and inspiring ways. Watching Calvin cope with each of these issues invokes empathy and instruction. Her description of yo-yo tricks is exceptionally strong."
Resource Links
"Calvin's personal growth as he overcomes his shyness with his peers and his estranged father is heartwarming…. The story is a nicely paced, enjoyable read, and most kids will find themselves compelled to finish it."
School Library Journal
"The Yo-Yo Prophet is a phenomenal book and the ending just warms your heart. Calvin is a character many people can relate to and Karen Krossing really knows how to bring readers in. Good job!"
Portsmouth Teen Book Review
"Krossing's use of terse, but vivid imagery depicts a torn young man struggling to fit into a teenage world unaware of the larger problems of his life at home. The Yo-Yo Prophet takes the reader along Calvin's journey, showing how a normal kid's fears, inadequacies, and defeats lead him to grow and make decisions that enable him to become more of the young man he wants to be. Recommended for a slightly older YA reader."
Assembly on Literature for Adolescents (ALAN)
"The title and cover art will attract middle school boys to The Yo-Yo Prophet. Give it a try."
Voice of Youth Advocates (VOYA)

"This book was wonderfully written and keeps the reader glued to the page to find out what could happen next in Calvin's roller coaster ride to fame."
Shelley Daugherty (LibraryThing Early Review)
"Children will enjoy the descriptions of the tricks Calvin throws while rooting for him to overcome the obstacles in his path."
Kim Piddington (LibraryThing Early Review)
"This is a fun book and … a perfect fit for middle school."
Evergreen Junior High Library Review
"I love the characters, Rozelle especially. She's such a feisty big-busted girl full of spunk and innovation."
Sylvia McNicoll, Author
"It's a very quick and fascinating read with the yo-yo tricks moving the action along nicely. I also really liked Calvin as a person and wanted to see how or if his life's problems worked out."
Plano Public Library
"So many reasons to love THE YO-YO PROPHET: the way the main characters change throughout the book, … the tension and excitement of Calvin's yo-yo performances and competitions, how Calvin reacts to and eventually finds a way to cope with bullying, how he deals with his missing father and the declining health of his grandmother. Uplifting and hopeful ending without being clichéd."
Inkygirl, Debbie Ridpath Ohi
"I found myself glued to this story…. I really enjoyed the incorporation of 'old school' yo-yo tricks and how Calvin uses that to overcome a difficult stage in his life. The book shows that circumstances can leave you spinning on the end of a string, but somehow Calvin manages to hone his skills and grow up a little, too."
Mable's Fables Bookstore