August 14, 2016
In May 2016, I came across this article naming Toronto "the most multicultural city in the world," and I've been thinking about it ever since.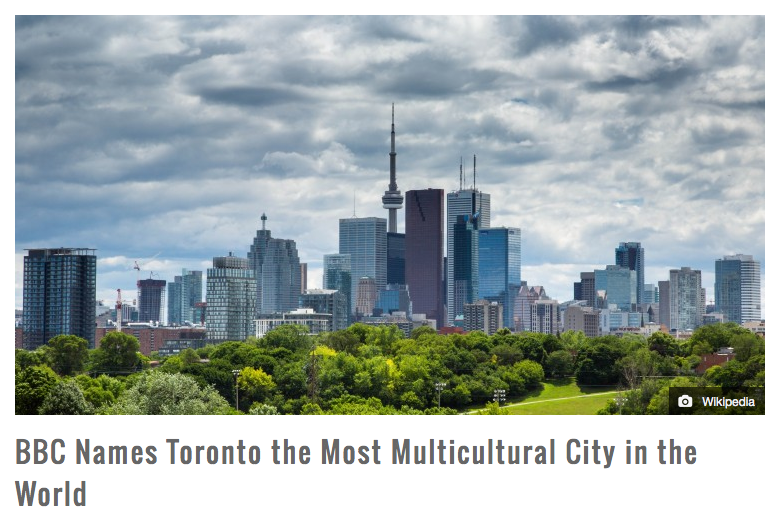 My first reaction was pride. I love living in "the most multicultural city in the world." I love the range of cultures I'm exposed to, I love seeing how diverse cultures can work together, and I love learning new things about the people I interact with. We only need to look to media reports to see that, in the world today, there's too much hatred between cultural groups, and I value the daily proof that multiculturalism can work. Yes, we have a long way to go to battle prejudice and disharmony. Yes, too many groups still suffer unfair treatment. Personally, I fight this battle by writing books that point out biases and promote acceptance and understanding of differences. I feel this is particularly important when writing for kids and teens.
Over the last few months, I've been outlining a new novel for teens. As I developed my racially diverse characters, I began to realize how often I draw from my daily life experiences to write multicultural books. I need only look to my diverse group of friends and family members as well as strangers I meet. I can also draw from the personal bias I've experienced as a woman and an advocate for those groups without a strong public voice.
Within the pages of my fiction, I've written about genetic reproductive rights and disability in Pure, survivors of domestic and sexual abuse in Punch Like a Girl, people with mental health issues in Take the Stairs and Cut the Lights, racial bias and terrorism in Bog, acceptance of sexual orientation in Take the Stairs and Punch Like a Girl, elder care and interracial families in The Yo-Yo Prophet, and so many more aspects of diversity. Although I'm a Canadian woman with roots in the Scottish highlands, it's easy to write diverse books when I base it on the multicultural community I love.
July 4, 2016
My family members are ever-present observers of my creative process. Often, when I complain about feeling blocked on a project or feeling doubt about whether I can complete a project, they nod knowingly.
"Oh, that stage," they say. "You've been here before."
At that point, I typically rant, explaining how this time is different. How they don't know what they're talking about – until I think it through.
Each time I face doubt, it feels like a fresh, impossible challenge. So I spent the last few weeks pondering the role of doubt in my creative process. Upon reflection, I've noticed two main stages where doubt can creep in.
Restless Stage
First, there's the restless stage. I may have writer's block. I may say that I have nothing to write about. I may worry that I'll never have another "good" idea.
If I do have a writing idea, I may procrastinate. I want to write, but all I seem to do is complain about writing and how hard it is. I may compare myself to other writers and idealize their creative processes.
The good news is that this stage usually precedes a time of focus, when I dive into a new project, commit to it, and write madly.
Wavering Stage
At some point in a project, maybe mid-way, I may lose focus and doubt myself. How will I end this book? What if I can't actually write it? What if I fail?
The good news is that this stage usually precedes a leap of courage, where I dive back into the project, taking risks, exploring ideas, and immersing myself in it once again. (See my post Stuck in the Messy Middle? My Tips for Completing a First Draft for suggestions on how to handle this stage.)
---
I must admit that my family is right. I've hit similar stages of doubt on many of my projects.
Identifying these stages is a good first step to understanding them. Doubt seems to have some role in my creative process, and perhaps this is true for other writers too. I suppose that a healthy dose of skepticism helps me to evaluate a work-in-progress. It helps me to think harder and search deeper than I would otherwise have done. I ask questions that I don't know the answers to. I expose the vulnerable side of my creative self. I explore the uncomfortable.
That's when writing feels hard. When I can become blocked. Yet doubt seems to have value in the creative growth of a project.
Maybe I need to embrace doubt with an open mind. Maybe I'm lucky to have my family around to remind me of that, over and over again.
May 9, 2016
At Authors for Indies Day last year, I recorded this short interview for Turning Pages, produced by local cable channel CogecoTV. The show looks at what's happening in the world of books and publishing through conversations with authors, readers, and publishing professionals. Thanks to host Roxanne Beale, owner of Roxanne's Reflections Book & Card Shop, a well-stocked independent bookstore in Fergus, Ontario. It was a pleasure to chat about books and writing, and to visit her store for Authors for Indies Day. Here's to supporting our indies!

May 2, 2016
At the SCBWI Canada East conference in Ottawa this weekend, I received my shiny Crystal Kite Award in the Canada division for Bog, published by Fitzhenry & Whiteside and edited by the fabulous Christie Harkin and Cheryl Chen. This award is particularly meaningful to me because it's peer-given. I'm honoured and thrilled that my own people would recognize Bog in this way. He's a character who is near and dear to my heart, but I must admit that his creation was fraught with rejections and roadblocks.
At the ceremony, I shared an anecdotal journey of my creation of Bog, including my inspiration, struggles, and what I learned. This blog post is an excerpt from that talk.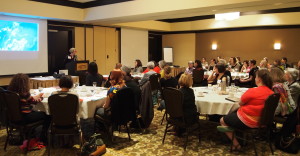 Overcoming Self-Doubt
At times when I was writing Bog, self-doubt slowed my process. Why was an adult woman spending her time squirreled away alone and writing about a cave troll? Would anyone want to read my story? Was I mad?
I learned that, when doubt creeps into my writing process, I need to rekindle my joy in writing. Yes, writing is a way I earn money, but it's also a passion. With Bog, I rekindled my joy by playing. Exploring who Bog was in his world. Allowing myself the time and space to imagine him fully. I also learned that if I've lost the joy, I may need to switch to another project until I can rekindle my passion.
Finding Characters with Personal Meaning
Picture me in grade nine: Less than five feet tall. Weighing less than a hundred pounds. Painfully shy. With an overactive imagination.
When I hit five feet tall, I banned short jokes in my family. But at school, I got called small and cute a lot. Too much. My rebellious streak took over. I began to hate being called small and cute. I began to tell everyone that I was very large and hairy – at least on the inside. And so, my inner troll was born.
Since then, it's become been a running joke in my family: Karen – big and hairy. In fact, this theme shows up years later in a hand-drawn birthday card from my eldest daughter. My daughter knows what it's like to have a troll for a mother.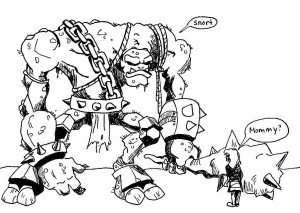 And so, I learned to write characters who carry personal meaning for me. When I connect with them, write them deeply, readers can connect to them too.
Gathering Inspiration from Other Creators and Their Work
Inspiration for Bog's character continued when I saw the trolls in the Lord of the Rings movies. Maybe you remember the cave troll in the Mines of Moria, chain by the orc and dragged around by his neck collar to do their bidding. Everyone else watching the movie was probably worried about Frodo at that point, but I was wondering why the troll was chained and whether he was coerced into being a warrior for the orcs. Did he want to fight against Frodo? Was he treated fairly by the orcs?
So the idea of writing a novel featuring trolls was born. And I learned that I could build on the ideas of other creators, explore them from new angles, and gain new insights.
Finding Story Sparks Even in Dark Moments
Another influence for Bog came on 9/11 and the days and months afterward. In a way, this novel is my reaction to the terrible destruction of the World Trade Center towers, and the ensuing war on terror. But it's also a reaction to ethnic conflicts and violent extremism the world over – anywhere where there is learned hatred against another culture instead of acceptance and understanding of differences.
On 9/11 and in the days that followed, I learned that even dark moments can hide story sparks. I also learned that I could show the dark side of life to kids and help us all make sense of it.

No Holidays from Inspiration
By this point in my writing process, I was researching things like phases of the moon, the forest and its creatures at night, how far a troll can walk per night, troll lore from both Norse mythology and ingenious stories, and what drives people to terrorism. But it wasn't until I went on a camping trip in northern Ontario that I finalized my setting.
The novel creates a mythology around the landscape north of Lake Superior in Ontario. The setting is based on real places, including the wilderness north of Thunder Bay, the Sleeping Giant peninsula in Lake Superior, and the ruins of a flooded silver mine on Silver Islet.
From my camping trip, I learned  to be open to inspiration from daily life. To pay attention. There are no holidays from inspiration.
Managing Roadblocks and Rejections
At this point, I was ready to start writing. I knew my story. I could write this book.
Or not.
This book was the hardest one I've written so far. It took more rewrites than I expected – a total of ten years from conceptualization to printed book. First, I got stuck while writing first draft. I had to learn more about plotting. So I got hooked on screenwriting seminars by John Truby, Robert McKee, and Christopher Vogler. Then I had to learn more about how to express character and meticulously craft a sentence. I sought out conferences, writing books, mentors, and critique partners. When I did get a readable draft written, I submitted it to a lot of agents, sure that this would be my breakout book. This book mattered. It would find its home.
But it found a lot of rejections. And I found my way tangled.
This taught me that my writing journey is not steady or consistent. It's full of detours, roadblocks, and surprising discoveries. I also learned something about the way I react to rejection. I mourn. Then I get fierce. I think, "I can so write a great book." I pull out the manuscript again, and I go at it once more, getting feedback, envisioning a new draft, and writing to prove to myself that I can succeed.
No Shortcuts in Writing
If I could talk to my pre-published self, I'd say have a little faith in yourself and your writing instincts but don't think you can master the craft without putting in a lot of writing hours.
I've also learned that I can recover from a rejection, or a lot of rejections, if I keep writing and revising. And I can find an innovative way around any roadblock, if I stay steady on my creative journey.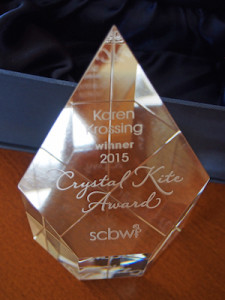 March 31, 2016
Writing the middle of a novel is hard. I start out a first draft starry-eyed and eager to write, enthralled by my sparkly premise and seduced by my enticing characters. This book will be different. I know so much more about writing a novel now. I won't get lost in the messy middle this time.
Words come easily. One chapter flows into the next. Then, at some point, maybe around chapter eight, I slooowww dooowwwnnn. Word production reduces to a trickle. My characters don't seem so sparkly anymore. My plot tangles.
Can you tell where I am in my current work-in-progress? Yep. You guessed it. The messy middle.
Here are my tips and tricks for facing down the messy middle:
Re-visit Your Plot
I typically create a full synopsis before writing. Throughout the writing of my first draft, I stop to revise my synopsis periodically. It's easy to find places to tweak wording, but more importantly, I find places to expand. Sometimes, I get stuck in the messy middle because I haven't fully envisioned what's going to happen in a section of the novel. I have the larger scenes in mind, but the nuances and details fill in as I write a first draft.
Take a Walk With Your Protagonist
I may be lost in the messy middle, but my protagonist can guide me through. Sometimes, I pause during the writing of my first draft to expand my character notes. Now that I've written a portion of the novel, I may have a better idea of who my protagonist is, and how my other characters relate to him or her.
Research Your Next Scene
I may become stuck because I don't have enough detail to imagine the next sequence of scenes. Researching setting and other particulars can help me get back on track. Once I've researched information I may have been missing, I can write more specific notes about my upcoming scenes. If I'm lucky, I'll slip into writing the next scene without even noticing. If not, at least I'll have a better plan for what I'll write, when I'm unblocked.
Write About Your Novel
I sometimes need to write journal entries about my novel. Typically, I ask myself questions about what's blocking me or how I feel about the novel and its characters. My entries are rambling and sometimes grouchy or whiny, but they eventually help me figure out why I'm blocked. When I identify the block, it's easier to clear.
Make Revision Notes About What You've Already Written
Sometimes I need a running start in order to tackle the messy middle. I re-read from the start of my first draft, making notes about how to revise and deepen. I try not to do too much revision at this stage, because I know I'll see the manuscript more clearly once I've written a whole first draft. But if I discover my manuscript has traveled far off track, I wrestle it back into place. This process helps me to re-connect with what I've written and where the story is headed, kickstarting my writing again.
Make a Project Playlist
I love collecting songs that inspire my work-in-progress and even specific scenes. Listening to my playlist before a writing session can help me get writing.
Find Images to Inspire You
I also love collecting images that inspire my work-in-progress. I've collected photos of people who look like my characters, setting possibilities and artwork that captures the emotional tenor of my work-in-progress. If you like to draw, you could also sketch your characters and settings, even mapping your world.
Make a Daily Word Count
I have an over-active inner editor who likes to judge whether I'm writing well. I like to keep him busy by counting words. If I set a daily word count for myself, he's distracted from judging the quality of my writing, which frees me up to simply get words on paper. I can't revise if I don't write a first draft.
I prefer to set my daily word count low. If I aim for only five hundred daily words, but I achieve one thousand, I feel positive. If I aim for fifteen hundred words and achieve one thousand, I feel discouraged.
Write To-do Lists
I like to break my big-picture goals into smaller daily ones. My yearly goals are vague (for example, write a first draft of novel A and revise novel B). But I break those down into realistic weekly and daily goals, depending on the non-writing tasks I also need to do. This takes the pressure off in terms of personal or publisher deadlines. As long as I'm meeting my monthly or weekly goals, I'll get where I'm headed.
Find a Goal Buddy
I love solitude. On my high-school aptitude test, my top job was a long-distance truck driver. I figure that's because I answered every question as the introvert that I am. Sometimes, I need to fight that urge for solitude and talk to writing friends about my goals. When I state my goals aloud to someone I trust, it helps me feel more accountable.
---
I know that frustration is part of the creative process. Yet, with each project, when the messy-middle stage arrives, I'm caught off guard. This manuscript feels harder to write than any other I've ever written. Where do I go from here? How can I move this project forward?
I'm about to dust off a few of these techniques to re-kindle my enthusiasm for my work-in-progress. Hopefully, some of these techniques will work for you too.
February 29, 2016
Hey, Toronto teen artists and writers! Check out the great events at the Toronto Public Library on March Break, including an open mic and workshops on photography, anime, cartooning, writing, and more. For a full listing, go here.
After you perfect your artwork, photography and writing, you can submit it to the TPL's Young Voices Magazine. The submission deadline is Tuesday April 5, 2016. Work submitted after the 2016 deadline will be considered for the 2017 issue of Young Voices Magazine.
All submissions are reviewed by an editorial board consisting of teen artists and writers working with professional artists and writers, including me. If your work is selected for publication, you'll be notified by the TPL. Good luck, and I look forward to reading your entries!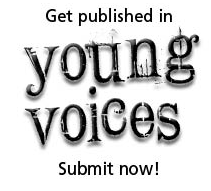 Do you want to see what the editorial board selected in 2015? To read last year's magazine, go here.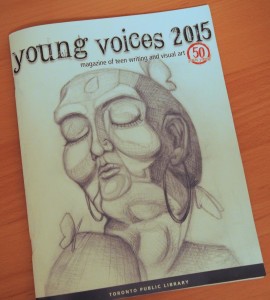 January 25, 2016
I've been thinking about how best to concentrate this month, really focus during my writing sessions, since I've been noticing that I can be easily distracted at times.
Why am I more distracted than usual? Maybe it's because of the intermittent nature of connecting with people through social media throughout the day. (I love connecting with my online network, really, but I also need writing time.) Or maybe it's the bite-sized way we now consume online information, through 500-word blog posts and three-minute videos. (How often do I favour that three-minute video over the 20-minute one? Has my brain been reprogrammed to consume in small batches?)
So I began my personal mission for better concentration.
Step 1: Control my Use of Social Media
I'm a writer with discipline, so I don't need an app that banishes me from Facebook or Twitter. But I maybe I don't need to check in every 30 minutes? Or watch that cat video. Or that one. Or … you get the idea. (Maybe I still need some help with step 1.)
Step 2: Get More Comfortable
I know many writers like treadmill desks. (Right Arthur Slade and Mahtab Narsimhan?) Call me lazy, but I prefer to sit while writing. The problem is that the cold gets to me, so my latest writing tool is writing gloves. I love, love, love my cozy new gloves. Warmth matters. Who can write well without warmth?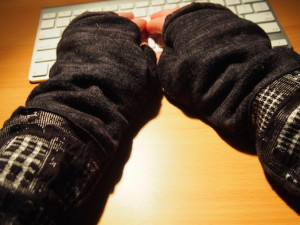 Step 3: Seek Sounds for Better Productivity
With noisy teenagers in my home and construction workers often outside it, I've been trying productivity sounds to help me focus. The free websites Rainy Mood as well as Noisli have helped me block unwanted sound. But I hit the motherload of sound productivity when this blog post introduced me to Brain FM. Wow! I'm a huge fan!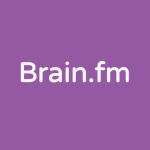 What is Brain FM? It's a website-delivered audio brainwave program designed to help us focus, relax, or sleep, depending on what we're trying to do. I was a skeptic, until I tried it once. Four hours later, I was still writing and that tug to check Facebook and Twitter was a distant memory.
Step 4: Seek Goal Buddies
I love writing in solitude. But I've also been seeking out like-minded writing friends to help with productivity. Sometimes, I flee my lonely writer's garret to meet friends at a library or coffee shop to write. I love the looks of quiet concentration on their faces and the conversations about our goals for our works-in-progress.
Step 5: Just Say No
As Steve Jobs famously said in this video, "Focusing is saying, 'No.'" Life is busy, and it can be hard to chisel out writing time. Recently, I've been learning the power of saying "no." I want to be tugged in fewer directions. I want to spend less time multi-tasking. I want to to focus on one writing task at a time, and do it well. Really well. So well, that when a child or teenager picks up one of my books and starts to read, my writing will be compelling enough that he or she won't be tempted to check Facebook or Twitter or Instagram or Tumblr or anything else. At least until the book is done.
November 10, 2015
Friday, December 4, 2015
14432 Rd 38, Sharbot Lake, ON K0H 2P0
Grades 7 to 10
Two readings of Punch Like a Girl to help raise awareness about violence against women and remember the anniversary of the Montreal Massacre on December 6, 1989.
WordPlay Writing Workshops
Monday, December 14 and Wednesday, December 16, 2015
4:00 p.m. – 6:00 p.m.
Toronto Public Library, Cedarbrae Branch
Ages 13 to 19
Who says writing isn't fun? With fresh and inspiring story-starters, you'll explore new characters and create captivating scenes. Spark your imagination and enjoyment of words while learning creative writing techniques in this hands-on workshop.
How to Create a Believable OtherWorld
Monday, December 21, 2015
4:00 p.m. – 5:30 p.m.
Toronto Public Library, Agincourt Branch
Ages 13 to 19
Whether you write about unicorns or alien planets, an imaginary world needs rules and structure in order to be believable. In this workshop, you'll learn how to create a fully imagined fantasy or science-fiction world and the characters who live there.
Writing from Real Life: Writing Workshops for Teens
Saturday, February 20, 2016
1:00 p.m. – 3:00 p.m.
Toronto Public Library, Cedarbrae Branch
Ages 13 to 19
Register here
Wednesday, March 16, 2016
1:30 p.m. – 3:00 p.m.
Milton Public Library, Main Branch
Ages 12 to 17
Learn to create stories from real-life details. Explore how childhood memories, overheard conversations or even family history can be turned into great writing. Explore creative writing techniques and get constructive feedback on your writing!
April 19, 20, 21, 2016
The Canada Aviation and Space Museum
11 Aviation Parkway, Ottawa, ON K1K 2X5
The MASC Young Authors and Illustrators Conference turns 25 this year! If you are a student in grades four to eight with a passion for writing and illustration, you won't want to miss this exciting day of hands-on creative workshops with some of Canada's finest children's authors and book illustrators.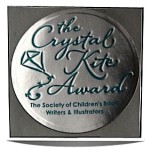 April 29 – May 1, 2016
Albert at Bay Suite Hotel
435 Albert Street, Ottawa, ON K1R 7X4
Award presentation for Bog, which won the 2015 SCBWI Crystal Kite Award in the Canada division.
October 22, 2015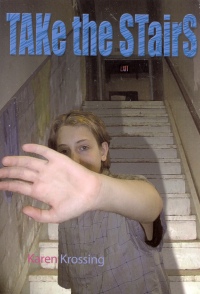 I got a lovely note from a high-school teacher this week about my novel Take the Stairs. She wanted to let me know that my book is enjoyed daily at her school, and she thanked me for writing about taboo topics in a way that allows teachers to easily open dialogue on them in the classroom.
Like me, this teacher believes we need to acknowledge the rough realities in life. Today, I'm grateful she took the time to let me know that my book mattered to her and her students.
For teachers looking to use Take the Stairs in the classroom, a teacher's guide is available here.
September 28, 2015
I believe that an author's first priority is integrity to the story. We must listen to our characters and take them where they demand to go. Yet we cannot deny the immense influence authors wield over their audiences. For children's authors, this influence is particularly potent. The youth of today become the caretakers of tomorrow.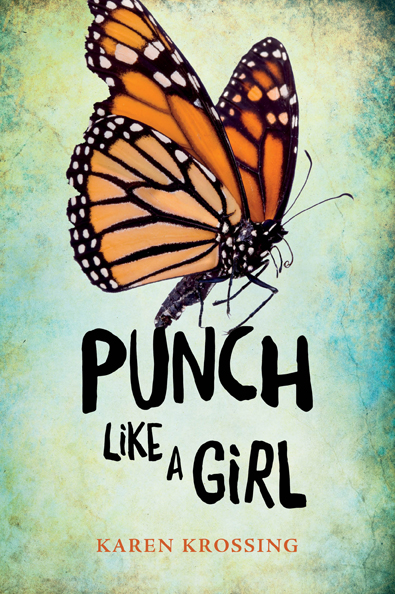 My latest novel, Punch Like a Girl, addresses a topical issue head on. In it, 17-year-old Tori develops a hero complex, trying to rescue others whether they want it or not, in order to avoid facing her own fears of sexual assault. At publication, numerous high-profile incidents involving sexual assault were in the headlines, bringing the issue to the forefront of traditional and social media, and pushing for a public conversation that is long overdue. For readers, I hoped my book would spark open discussion on what a healthy relationship looks like. I didn't anticipate the very personal conversations I'd have with readers – in writing and face to face.
I've had teen girls ask me what to do about a friend who is in an unhealthy relationship. I've had inspiring conversations with survivors of domestic or dating abuse. I've had a teacher approach me to meet personally with a gifted young writer who wrote about her story of survival. These conversations show what a huge impact a book can have on readers. Enough to open their minds to a new worldview. Enough to make much-needed cultural shifts in our society, now and in the future.
So exciting to meet @KarenKrossing at Writers Fest today! Already loving her book! She's amazing. Truly inspiring! pic.twitter.com/T1ez8LkV8K

— Saydo (@Canadian_BBPR) September 24, 2015
For me, writing Punch Like a Girl was a way to understand the trauma and recovery process from the inside. It was about the building of a hero from the ashes of a victim, which is Tori's journey. But it's also becoming a talking point, sparking conversations about violence against girls and women. Tori and I have both learned about the power of community and how to punch back.
After interaction with readers, I've come to a few conclusions. Not only do we need to be good stewards of our earth in order to pass it on to future generations, we need to be good stewards of our youth. For authors, this means we need to recognize that, in creating content for children and youth, we have a social responsibility. I'm not advocating didactic, preachy, or moralistic lessons, since this doesn't maintain the integrity of the story. However, social responsibility can affect our choice of story idea, the diversity of our characters, the actions our characters take, the changes they go through, and how we interact with readers during readings and workshops as well as online. As cultural critic Henry Giroux says, although creators want to make great art, we also have a responsibility to create a world in which great art can thrive.
August 25, 2015
Thanks to YA author and blogger Melanie Fishbane for this interview on her blog. I'm very excited about Melanie's debut novel about the teen years of L.M. Montgomery, author of Anne of Green Gables, to be published by Razorbill Press in 2016. This is a novel not to be missed!
To read Melanie's interview of me and my latest novel, Punch Like a Girl, click on the image below. Thanks, Melanie, for the great questions.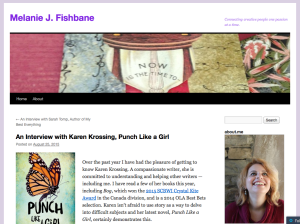 August 11, 2015
Here's my latest version of places for young writers to submit. I update this list every so often, and a PDF version is always available on my Links page. Please feel free to share widely, and add any suggestions or correction in the comments.
Contests
The Canadian Aboriginal Writing Challenge showcases writing by Aboriginal Canadians between the ages of 14 and 29. www.our-story.ca
Canadian Writing Resources and Contests for Students are listed through Wordwrights Canada. www3.sympatico.ca/susanio/WWCcomp.html
The CNIB Braille Creative Writing Contest accepts original poems and stories by Canadian students up to grade 12. www.cniblibrary.ca/iguana/www.main.cls?surl=braillecontest
The Eden Mills Student Poetry Contest is an annual youth poetry contest run by Eden Mills Writers' Festival, which is held annually in early September. edenmillswritersfestival.ca
The Hamilton Public Library has the annual Power of the Pen Creative Writing Contest for ages 12 to 18 who are residents of Southern Ontario. Check the Teen Page at www.hpl.ca.
The River of Words Annual Poetry Contest is designed to help youth explore the natural and cultural history of the place they live. The contest is open to any writers aged 5 to 19. Older students must have not yet completed high school. www.stmarys-ca.edu/center-for-environmental-literacy/rules-and-guidelines
The Scholastic Art and Writing Awards recognize student achievement in the visual arts and creative writing. Sign up to receive email updates about annual deadlines. www.artandwriting.org
The TD Canadian Children's Book Week Writing Contest invites young writers from across Canada, in grades 4 to 12, to submit stories and/or poems. Judging is done by noted writers from across Canada and one winner and two honourable mentions from each grade receive a gift certificate for the bookstore of his or her choice. www.bookweek.ca
World Literacy Canada organizes Write For a Better World – a national writing contest open to students in grades 5 to 8 that aims to inspire a sense of global citizenship in Canada's youth. www.worldlit.ca
Publications
The Adroit Journal is a print literary publication offering young writers from around the world the chance to submit work for publication alongside established adult writers. Young writers in high school or college can also participate in the editing process as part of the journal's staff of readers and editors. www.theadroitjournal.org
The Blue Pencil Online is an online magazine edited and produced by the students in the Creative Writing Program at Walnut Hill School for the Arts, located in Natick, Massachusetts. The magazine seeks to publish the best literary work in English by young writers (12 to 18) around the world. thebluepencil.net
chixLIT is a literary zine written, illustrated and produced by and for girls. They accept submissions of stories, poems, artwork, and photography from girls age 13 to 17. www.chixlit.com
Teens from around the world can submit their poems and art to Navigating the Maze, an annual youth anthology. www.adonisdesignspress.com
Cicada Magazine is an international print and online magazine that publishes writing by teens. www.cicadamag.com
The Claremont Review is an international print magazine of young adult writers. It accepts manuscripts by writers aged 13 to 19. www.theclaremontreview.ca
Cricket Magazine is an international print magazine that holds monthly writing and artwork contests for young subscribers aged 9 to 14. www.cricketmagkids.com
Cuckoo Quarterly is a British literary journal that publishes work by young writers in high school. www.cuckooquarterly.com
The Cyberkids website at www.cyberkids.com accepts work for online publication.
Elan Literary Magazine is a student run magazine that accepts fiction, poetry, creative nonfiction, and plays from writers aged 14 to 18. elanlitmag.org
GirlSpeak showcases original works by young women ages 12 to 22 for an international readership. www.youngchicagoauthors.org/girlspeak/2008/index.html
Greystone Young Lit Mag publishes poetry, stories, artwork, and photography from students K to 12 for their quarterly online publication. mygreystone.wordpress.com
Hanging Loose Press is dedicated to supporting new and young writers. They have special guidelines for high school student submissions. www.hangingloosepress.com
KIdsWWwrite is an e-zine for young authors and readers. www.kalwriters.com/kidswwwrite
Launch Pad is a print magazine devoted to publishing fiction, nonfiction, poetry, book reviews, and artwork by children ages 6 to 12. www.launchpadmag.com
New Moon: The Magazine for Girls and Their Dreams is a print magazine edited by 8 to 14 year-old girls. www.newmoon.com
Re:verse is a zine for young poets organized by the League of Canadian Poets. www.poets.ca
Shameless is a progressive Canadian magazine rooted in feminism and DIY culture for teenage girls, who are underrepresented in the mainstream media. Accepts submissions from young writers. www.shamelessmag.com
The youth (age 16 to 25) section of Diaspora Dialogues' online zine, Young Writers from the Edge, accepts youth submissions of creative writing. Focus on Toronto, must live in Canada to submit. www.diasporadialogues.com/youthsite/zine
Skipping Stones is a multicultural children's magazine that encourages children to submit both art and writing. www.skippingstones.org
Stone Soup is a print magazine of writing by young people up to age 13. www.stonesoup.com
Teen Ink is a US monthly print magazine, e-zine, and book series that publishes teen (13 to 19) writing. It offers lots of publishing opportunities, contests, and a chance to read work by other youth. teenink.com
Windscript is the Saskatchewan Writers Guild's annual magazine of high school writing. www.skwriter.com/publications
Young Adult Review Network (YARN) is an literary journal that publishes outstanding original short fiction, poetry, and essays for young-adult readers. They seek to discover new teen writers and publish them alongside established writers of the YA genre. yareview.net
The Toronto Public Library's Young Voices Magazine is a venue for writing and art by Toronto teens. ramp.torontopubliclibrary.ca
Links of Interest
Broken Pencil: The Magazine of Zine Culture and the Independent Arts reviews the best zines, books, websites, videos, and artwork from the underground and reprints the best articles from the alternative press. Also includes groundbreaking interviews, original fiction, and commentary on all aspects of the independent arts. www.brokenpencil.com
National Novel Writing Month, a yearly program that occurs over the month of November. Writers are encouraged to produce a 50,000 word novel to be submitted by the last day of month. Includes areas to post excerpts and share your word count in-progress, as well as community forums and pep talks. Free to register. Includes a NaNoWriMo Young Writers Program with special resources for writers 17 and under. www.nanowrimo.org
Newpages: Young Authors Guide is a select list of literary magazines to read, places to publish writing, and legitimate contests. Many of the magazines have open submissions with guidelines, an editorial selection process, and a regular print cycle. Some publish only young writers, some publish all ages for young readers. Most of the resources listed are American. www.newpages.com/npguides/young_authors_guide.htm
Online Writing Communities
Figment is an online writing community created to be used by educators, but also open for individual children and teens to create independent accounts. Figment members share their writing, connect with their readers, discover new stories and authors, and participate in contests. www.figment.com
Wattpad is an online writing community that calls itself the world's largest community for discovering and sharing stories, and connecting readers and writers through storytelling. (Not aimed specifically at youth, but many young people are active members.) www.wattpad.com
WeBook is a community of writers posting work and sharing feedback as well as an active blog with contests, advice, and publishing tips. www.webook.com
Young Writers Online is a community of young writers, both new and experienced, dedicated to improving their writing. Members have access to a Community Forum for general, literary, and off-topic discussion; the Writing Forum, for submitting writing and critiquing work posted by other members; plus a chat room, contests, exercises, and more. Membership is free. www.youngwritersonline.net
Toronto Literary Events for Teens
The BAM! Toronto Youth Poetry Slam is for poets aged 12 to 19, all ages for open mic, and runs on the second Wednesday monthly at The Central (603 Markham Street) in the Annex. www.torontopoetryslam.com/bam-youth-slam
Teens aged 13 to 19 submit their work to be selected to take part in an hour of scheduled readings and onstage interviews at the Word on the Street Youth Open Mic Hour. www.thewordonthestreet.ca/wots/toronto/contests/openmic
Toronto Public Library Creative Writing Programs for Teens
Young Voices Magazine of Teen Writing and Art is an annual publication of poetry, stories, nonfiction, artwork, and photography. Teens 12 to 19 living in Toronto are eligible to submit. Work is selected by editorial teams made of youth volunteers and professional writers and artists. A launch event including youth readings is held each fall to recognize the contributors.
Young Voices Writing and Art Workshops are annual workshops led by the professional writers and artists who act as guest editors of Young Voices Magazine. These workshops are held at library branches and at outreach locations such as youth shelters and youth arts program centres.
Young Voices Annual Writers Conference is an annual full-day literary event featuring professional writers and performers. The programming includes a keynote speech, multiple workshops and an open mic. Throughout the day, youth can submit writing and art and youth volunteers produce an instant anthology that participants take home.
North York Central Library Teen Writers' Group is an ongoing group for ages 13 to 19 that meets twice a month. Teen writers share their work, receive feedback and support from peers, and learn about creative writing in various styles and genres.
North York Central Library Teen Coffee House is held twice a year. This open mic evening for ages 13 to 19 gives teens an opportunity to share their writing talent in front of a supportive audience of their peers. Prizes awarded by
June 12, 2015
I'm preparing notes for a workshop this afternoon, so I thought I'd share them as a blog post. If you've written a first draft of a novel, here are some ideas on how to revise.
After writing a first draft, the challenge is how to polish your good idea until it sparkles irresistibly, attracting the attention of an editor at a publishing company.
It's not enough to have a good idea. It's not even enough to write well. A piece of writing that you want to submit for publication needs to be the very best you could ever possibly write – then you need to find a way to make it even better.
How do you do that?
Take a break from a story. It easier to "re-envision" a story when you can read it the way a first-time reader would.
Get feedback. Writing workshops and writing groups offer a way to get constructive and positive feedback on how to develop your craft.
Edit yourself. Analyze problems in your story then rewrite in the same intuitive, instinctive way that you wrote your first draft.
Expect to revise a story multiple times. The revision process is a series of rewrites that brings the work closer and closer to a polished piece.
Here are some ways to revise a work-in-progress:
Show, don't tell. Dramatize key moments through action, dialogue, inner monologue, and body language, rather than telling through exposition and summary.
Reveal character with every word. The reader is looking for clues about each character; so cut any text that isn't revealing character.
Trim the fat. If you can convey meaning in ten words instead of twenty, do it.
Avoid bulky description. Don't pause a scene to interject lengthy description, explanation, or back-story. Instead, weave short descriptive phrases or sentences into the action and dialogue.
Avoid "yo-yo" emotions. A character's emotions need to build in a steady and realistic way. Watch for places where a character's emotions are inconsistent.
Determine your character's "dramatic need." Dramatic need is defined as what your main character wants to achieve by the end of the story. This need drives the forward thrust of the action. It can change throughout the story, but it should be clear to readers at all times.
Understand your characters. When you find a place in your story where a character's actions are not believable, analyze your character's motivations by asking "why," then rewrite to clarify.
Ask yourself: what is the story? Answer this question in one sentence or one paragraph to bring focus and clarity to your story.
February 2, 2015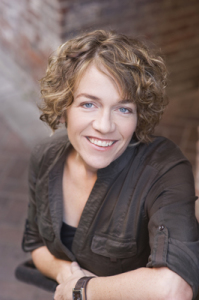 Today, I welcome Robin Stevenson to my blog for an interview about her compelling new YA novel The World Without Us – available from Orca Book Publishers in February 2015.
What do you do when someone you care about wants you to follow him to a really dark place? Do you pull away? Do you help plan the trip? Or do you put your own life on the line in the hope that love will coax your friend away from the precipice? When Mel meets Jeremy, she thinks she has finally found someone who understands her, someone who will listen to her, someone who cares. But Jeremy has secrets that torment him, and Mel isn't sure she can save him from his demons. All she knows is that she has to save herself.
Set in Florida, against a backdrop of anti-death-penalty activism, The World Without Us examines one girl's choices in a world where the stakes are very high and one misstep can hurt – or even kill – you.
I was lucky enough to read a preview copy of Robin's novel, and I found myself devouring it in a few days but pondering it for weeks afterward. I'm glad to have this chance to probe a little deeper in the novel and its intriguing premise and characters.
Karen: At the dramatic start of The World Without Us, Jeremy and Mel have made a suicide pact. In fact, they're on the Sunshine Skyway Bridge in Florida, ready to jump. Where did the idea for this come from?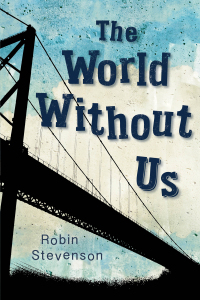 Robin: I wrote that opening scene without having any plan beyond that point – I didn't even know who Mel and Jeremy were, how they came to be on the bridge together, or why Jeremy jumped and Mel didn't. Writing the first draft was all about answering those questions and making sense of that opening scene.
As I wrote it, I remembered conversations I was part of in high school where people would kid around about suicide, and I started wondering: What if one of my friends hadn't been joking? What if an undercurrent of truth lay beneath the humour?
Also, I used to be a counsellor, and I worked with many people who were suicidal. So it's a subject I've thought a lot about over the years. I thought it might be good to write about it in a way that hopefully would lead to discussions and increased awareness.
Karen: I think the book will achieve that goal. I certainly hope so.
The failed suicide attempt is set against a backdrop of protests against the death penalty in Florida. What sparked you to link suicide with the death penalty?
Robin: I tend to get somewhat obsessed with certain topics. When I was writing this book, I was reading a lot about the death penalty, life on death row, black holes, and lucid dreaming. Sometimes my current topics glue themselves to other ideas and become part of the story I'm writing, which is what happened here. It wasn't a very conscious process, but I enjoyed writing about these themes together in this novel because it allowed me to explore Mel's and Jeremy's ideas about death in more depth. Suicide and the death penalty both raise questions about whether someone should live or not – and who should make that choice. And, of course, sometimes people who seem to have every reason to live choose to kill themselves, while others who have had appallingly hard lives desperately want to avoid death.
Karen: Both Jeremy and Mel are unique, richly developed and intelligent teens. Can you tell me a bit about the process of creating them?
Robin: Mel, who narrates the story, is bright, capable, and very much loved. She's an only child who is close to her parents. She seemingly has everything in the world to look forward to, and yet she ends up on the bridge with Jeremy. In contrast, Jeremy has experienced a terrible loss, but he's not suffering in ways that are obvious to the people who care about him. Suicide and depression are so complex – Mel and Jeremy themselves have to struggle to make sense of how they ended up where they did. I wanted to challenge preconceived ideas about who is at risk for suicide. I didn't want there to be any easy answers in this story.
In terms of process, I think the characters started to take shape as I wrote about their interactions and conversations with each other, and with Mel's parents and Suzy (the girl Mel babysits). I wrote a lot of conversations that didn't make it into the final book because that's one of the ways I get to know my characters. Mel was easier for me to understand than Jeremy. Her family is, in many ways, quite a lot like my own family, and Mel's difficulties in accepting Jeremy's ways of coping mirror my own struggle to comprehend and appreciate the different journey he is on.
Karen: On your blog, you've said that your books are about "figuring out who you are and what you believe and where you fit in the world." What do you think your protagonist Mel figures out about herself and her world in this book?
Robin: Both Mel and Jeremy are reading Camus, who wrote that suicide was the only truly serious philosophical problem, and both of them are, in different ways, struggling with the absurdity of life. Mel is a kid who has been raised on both skepticism and activism. She believes that the meaning in life is the meaning you give it, that your life is the sum of your actions, and that what matters are the choices you make. Jeremy is searching for a higher power of some kind and looking for a meaning that Mel doesn't believe exists. She feels Jeremy is running away from reality, ignoring both his freedom and his responsibility. But Jeremy is terrified by that freedom because it means nothing is holding him back, nothing is preventing him from letting go, and nothing is anchoring him in this world.
Mel doesn't have a lot of friends, and her deep, intense connection with Jeremy is terribly important to her. She feels abandoned when Jeremy chooses a different path, and her anger comes from this sense of loss. I don't think Mel ever fully understands Jeremy's fear and despair, but she does accept that she and Jeremy are two different people, and that he has to find his own ways of coping and creating meaning in his life. She realizes that she needs to stop trying to control what he believes and instead make her own conscious choice to continue to be a friend to him.
Karen: What's next for you? Can you share a little about your works-in-progress?
Robin: I'm currently working on the edits for my latest middle-grade novel. It's called The Summer We Saved the Bees, and it'll be published by Orca in the Fall of 2015. I'm also working on my first non-fiction project – a book about Pride Day that's aimed at readers aged 11 to 14. It's been an interesting process – a lot of research, reading, talking with people, sourcing photographs, etc. As a queer mom to a ten-year-old, I feel strongly that LGBTQ families need to be represented in the books our kids read – and I'm thrilled to have the opportunity to contribute to the growing body of diverse books.
Karen: You're busy, Robin, which makes readers like me happy. Thanks so much for taking the time to share your insights. It's been a pleasure, and I look forward to reading your upcoming books.

For more about Robin Stevenson and her books, you can visit her website. You can also follow Robin on Twitter or connect with her on Goodreads.
December 4, 2014
Writing for Publication
In my workshops for kids and teens, they always have questions about where they can publish and how they should go about it. So I tell them what I can, and I offer my ongoing list of Where Young Authors Can Submit.
I understand how exciting and validating it can be when a story or poem is accepted for publication, and I'm particularly thrilled when marginalized voices get a chance to be heard. But publication isn't THE goal of my writing workshops.
Writing to Understand Your World
Personally, I write to understand the world around me in all its complex, painful, fascinating glory. It maims us and then celebrates us. It gives us riches and takes them away. I find endless subject matter to write about by lifting my head and really observing what's happening around me.
So I hope that, in my workshops, kids and teens can get a taste of that goal and its pleasures.
Writing to Move People
I also hope to share my awe of words – how they have the power to make me laugh, cry, or feel inspired. I'm continually delighted by the power of words to move me, particularly the brilliant writing that's composed in only a few minutes during a workshop.
Writing to Make Your Soul Grow
In a letter to high school students in 2006, Kurt Vonnegut wrote:
Practice any art, music, singing, dancing, acting, drawing, painting, sculpting, poetry, fiction, essays, reportage, no matter how well or badly, not to get money and fame, but to experience becoming, to find out what's inside you, to make your soul grow.
Wonderful advice! Is there are loftier purpose for writing? In his letter, Vonnegut goes on to suggest the students write a poem and then tear it up. Then he writes:
You will find that you have already been gloriously rewarded for your poem. You have experienced becoming, learned a lot more about what's inside you, and you have made your soul grow.
Thanks, Vonnegut, for the reminder.