February 21, 2014
Do you know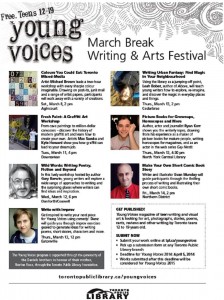 teen writers and artists who are looking for inspiration? Please spread the word about the Toronto Public Library's Young Voices March Break Writing & Arts Festival. From March 8 to 14, teens aged 12 to 19 can attend any or all of these hands-on workshops, from "Colours You Could Eat: Toronto Mixed Media" with professional artist Michael Brown to "Make Your Own Short Comic Book Story" with author and illustrator Evan Munday. Check out all the workshops on this flyer.
Toronto teens can also submit their writing and visual art to the TPL's annual Young Voices Magazine. Deadline is April 5. For more info and to submit, click here.
October 16, 2013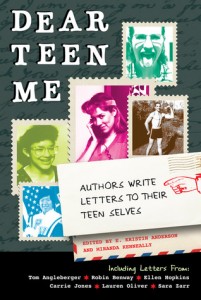 The Dear Teen Me website is known for it's letters by authors to their teen selves – a terrific endeavour put together by E. Kristin Anderson, Priya Chand, and Miranda Kenneally. Some letters are humorous and others more serious, yet they all honour "teens who have good days and bad days and sometimes really really really bad days." In fact, the Dear Teen Me anthology, based on the website,  was published by Zest Books in 2012 and named Best Teen Nonfiction by the YABC Choice Awards.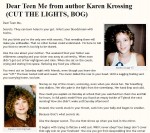 I'm glad to be a part of the Dear Teen Me website, and as of today, you can read my letter here. Although I'm not going to get into specifics about my letter, I will say that it was a challenge to write. One of the reasons why I write for teens is that it's a time of flux and personal growth – rich with possibilities and ripe with dangers that some teens experience first-hand. I hope that teens as well as people of all ages will find their way to the Dear Teen Me website to check it out. It's a fascinating showcase of authentic teen experiences.
August 23, 2013
As I wrote in Part 1 of this post, I've been taking a writing break to "fill the creative well" and ponder my current work-in-progress, which was somewhat stuck at chapter six at the start of the summer. In fact, I didn't know if I had a viable story idea that I could plot through to the end. So I wrote the first few chapters, took a break, and hoped for the best.
In the meantime, I re-finished our kitchen chairs into works of art with my artist daughter, Paige. (Statement of Truth: She's the artist. I'm just the base-coat painter.) You can see our first three chairs in Part 1, including the themes cosmos, Aztec, and steampunk. As promised, here are the final three chairs: Doctor Who, floral, and collage.
For all you Doctor Who fans out there, we planned a spinning Tardis (the Doctor's time machine) within billowing clouds coupled with our favourite quotes written in Gallifreyan (the language used by the Time Lords, displayed using a complex system of interlocking circles, hexagons and lines).
Here's the front of our Doctor Who chair, including a close up: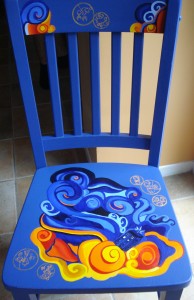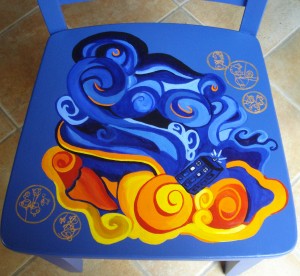 Can't read Gallifreyan? Curious what we wrote? Okay, here it is:
Front of backrest: "Do what I do. Hold tight and pretend it's a plan!"
(The Doctor, Season 7, Christmas Special)
Lower-left seat:  "Always take a banana to a party, Rose. Bananas are good!"
(The Doctor, Season 2, Episode 4)
Upper-right seat: "Biting's excellent. It's like kissing. Only there is a winner."
(Idris, Season 6, Episode 4)
Here's the rear of the same chair: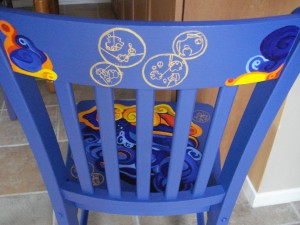 This Gallifreyan quote says: "You want weapons? We're in a library! Books! The best weapons in the world!" (The Doctor, Season 2, Episode 2).
Next, we created our floral chair, which is the only one that uses the natural wood grain: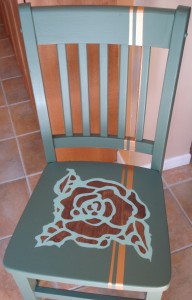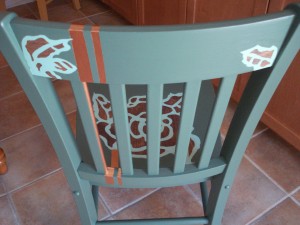 And finally, here's our collage chair, which includes images of the aftermath of Great Fire in Toronto, some of our favourite pastimes (books, dance, etc.), my family nickname (Karnage), excerpts from "What to Do in Case of an Air Raid" (a funny historical piece I found in a collectibles shop), several dragons (because who doesn't like dragons), and a lot more.
Here's a peek at our collage chair: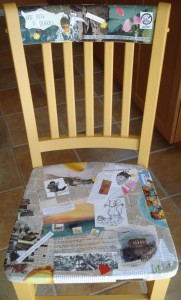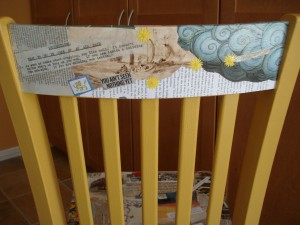 Now, we are resting on our chairs, irreverently sitting on works of art, and enjoying the fruits of our labours. And maybe, just maybe, that novel is ready to be written.
The writing process is a quirky thing. It's somewhat like calming a screaming toddler in the middle of a department store while juggling twelve oranges. You've got to keep all the oranges in the air without further upsetting the toddler or getting kicked out by the security guards. Okay, I know. Bad comparison.
What I did discover one day in August was that I suddenly knew how to solve that niggling problem in my work-in-progress. One clear sunny morning while reading an information book for pleasure, an brilliant idea found me, told me how to finish the novel, and created a few exciting new characters in the process.
So I'm feeling that stepping away from my desk and letting my subconscious do the work was a terrific plan. Even though I wasn't sure it would work. I guess those hours of painting chairs paid off in more ways than one.
August 19, 2013
The new Limelights performing arts series by Orca Book Publishers launches on October 1 with three titles: Attitude by Robin Stevenson, Cut the Lights by me, and Totally Unrelated by Tom Ryan. Can't wait to read these novels? To tide you over, here's an interview with author Tom Ryan about his book in the series.
Neil plays guitar with his family's band, the Family McClintock, even though he can't stand the Celtic music they play, he doesn't dance, he hates the outfits, and every single performance reminds him that he isn't as talented as the rest of the family.
When his buddy Bert convinces him to form a rock band and enter a local talent show, Neil's playing improves and everyone notices, including a girl who shares his musical interests. He starts to think that all those years of practice might come in handy after all. But it all comes to a head when Neil has to choose between an important gig with the family band and the talent show. He's only sure of one thing: whatever he decides to do, he's going to be letting someone down.
Have you drawn on your own experience at all in writing this book?
I grew up in a small town on Cape Breton Island, where music is a way of life and many talented families perform at community events and outdoor concerts all summer long. I thought it would be fun to write about one of these musical families from the perspective of one of its younger members. I also did a lot of performing when I was younger, as a singer in small three-piece bands like the one Neil and his friends form for the talent show, so I had a lot of fun revisiting those days.
How did you come up with your title? What other titles did you consider?
I don't want to give too much away, but the title fits perfectly with the story! I will say that Neil's relationship with his well-known family and his desire to break away and do his own thing are the central themes of the book, and by the time things wrap up, the title makes perfect sense!
Did you find it challenging to describe the thought process behind the creative process?
Yes! I spend a lot of time listening to music, but when I started writing the book I quickly learned that it is incredibly difficult to describe music and dance in words. By its very nature, music is meant to be listened to, not described, so turning the musical scenes that fill the book into part of a compelling narrative was a real challenge. Eventually I got into a groove and began to enjoy the process, but as hard as I tried, a written description of a musical performance will never match the real thing!
Have you done any performing arts as a teen or adult?
I've done loads of performing. As a teen I sang in a few bands, and I was also into theatre, both acting and building and painting sets. Later on, after university, I worked in the film industry for several years and had the opportunity to meet and work with lots of really interesting and talented people. I still play guitar a little bit and I've always enjoyed singing, but it's been quite a while since I performed in front of an audience.
If you could be proficient at any one "performance skill" what would it be?
I would love to be able to play piano. I took lessons for a couple of years in junior high, but I didn't stick with it and I've always regretted that. I haven't ruled out picking it up again, someday when I have a bit more time!
Thanks for the insights, Tom. Totally Unrelated sounds like a book that performance-loving teens won't want to miss!
You can find out more about Tom at www.tomwrotethat.com or find him on Twitter @tomwrotethat.
For an interview with Limelights author Robin Stevenson, visit Tom's blog. For an interview with me, visit Robin's blog. You can also read sample first chapters and enjoy the Limelights video trailer (made by Tom) at the Orca Limelights site. Enjoy!
July 30, 2013
After a year of solidly writing every day, I need to take a writing break this summer. The problem is that I'm terrible at sitting still. For me, resting is torture. My mind continues to spin out scenes that beg to be written down.
But as Julia Cameron says in The Artist's Way, we all need to fill our creative well every so often. She writes, "In order to create, we draw from our inner well. This inner well, an artistic reservoir, is ideally like a well-stocked trout pond. We've got big fish, little fish, fat fish, skinny fish – an abundance of artistic fish to fry. As artists, we must realize that we have to maintain this artistic ecosystem….Any extended period of piece of work draws heavily on our artistic well."
Ideally, Cameron recommends that we fill the well with sensory experiences, fun pursuits, intriguing explorations.
So how does this writer take a creative break, other than getting away from my writing desk? By finding a different creative project. One that uses a new set of creative muscles. And I had the perfect idea.
First, I enlisted my daughter, Paige, to help. She's a fabulous visual artist – a skill she didn't inherit from me. I shared my plan to revive our boring kitchen chairs, re-making them into painted, themed works-of-art. I would act as creative consultant and base coat painter; Paige would supply the art.
Here's the set of chairs we started with. Dull, I know.

We brainstormed ideas for how to paint each of the six chairs, which was a lot of fun. We settled on these ideas: cosmos, Aztec, steampunk, Doctor Who (yes, we're geeks), floral/nature, and collage. Now I'm doing the grunt work: stripping and sanding each chair, painting the undercoat and colour coats, and painting the polyurethane after the artwork is complete. Paige does the glory work, and her art is anything but boring!
What I'm finding is that painting gives my mind time to process what I've written and what I plan to write next. It gives me a way to relax my mind without sitting still. Like a long walk, painting is a terrific way to unwind and contemplate.
The best part is that, in the end, I'm left with gorgeous and unique chairs. Don't hang your art on walls – sit on it!
Here's our cosmos chair:
And our Aztec chair (front and back):
And finally our steampunk chair (front and back):
The last three chairs – Doctor Who, floral/nature, and collage – are in progress. I'll post later with pictures of them. In the meantime, I'm off to paint a Tardis-blue chair, contemplate life and fill the well!
June 24, 2013
Most people in the publishing world will admit there's no magic formula for creating a great story. The art of storytelling is difficult to pin down, hard to teach, and challenging to master.
Mastering story is a continual task for most writers – a never-ending quest for excellence. That's why being able to analyze one's story – to determine what it's doing well and where it needs revision – is essential.
For years now, I've been exploring the teachings of screenwriting masters to help me better understand story. A long-time favourite is Hollywood story consultant Christopher Volger. In June, I had the pleasure of learning from him in person at his weekend seminar on the Essence of Storytelling. The seminar covered essential story structure, the hero's journey, major character archetypes, and strategies for deepening the audience's involvement in the story. It was great fun to attend with fellow writers Anne Laurel Carter, Lena Coakley, Jennifer Gordon, Gwynn Scheltema, Rebecca Upjohn Snyder, and Erin Thomas.
At the seminar, Volger proved himself to be a master at analyzing story. Here are two particular aspects of story analysis that I found useful.
Organic Storytelling
Vogler suggests that story connects with the body, that it can have a physical effect on the organs of the body. For example, we talk about how a story chokes us up or warms our hearts. Somehow, stories are hardwired into the human body.
That's why Vogler has this rule: If a story is not making two or more organs of your body squirt fluid, the story is no good.
By observing our bodies as we experience story, we can better determine what makes an effective story.
Story Structure
Throughout his career, Vogler has sought to understand the hidden rules of storytelling through analysis of story structure:
What is the expected story structure that a reader will intuitively anticipate?
How can we use unorthodox story structure to give readers fresh, original stories?
How does structure punctuate a story, heighten key moments, and invite the audience to breath at the pace set by the writer?
Volger explains his twelve-stage template for story structure in his book The Writer's Journey (based on the writings of myth master Joseph Campbell and his book The Hero with a Thousand Faces). Basically, Vogler has developed principles to analyze stories, building a writer's toolbox from which to select tools to use in a particular story.
Of course, Vogler's story structure is a guideline of a classic story structure, and many variations on it exist, from the tightly formed mystery genre to avant-garde and non-linear storytelling. Any story structure serves as a model only, and writers need to trust their stories to tell them when and how to vary a model.
Using Intuition and Logic
It interests me that Vogler marries both intuition and logic to analyze story, although it's no surprise that both are needed. It explains why there are no hard-and-fast rules to storytelling and why no publishing expert can regularly identify which books will be the next bestsellers.
So if you're looking to expand your writer's toolbox, Vogler may be of help. You can check out either The Writer's Journey or his newest book, Memo from the Story Department: Secrets of Structure and Character.
Maybe Vogler's thinking will shake up your view of storytelling. Maybe it will validate it.
February 26, 2013
I'm pleased to announce that my contemporary middle-grade fantasy novel, titled Bog, will be published in Spring 2014 with Fitzhenry & Whiteside! I'm thrilled to be working with the talented Christie Harkin – a publisher with enormous passion for her titles.
Writing Bog has been a lesson in tenacity. It's a book that's immensely meaningful to me, yet writing it was grueling. I first conceived it in 2004, so it will be ten years, and a multitude of drafts, until it will be published. As Walter Wellesley "Red" Smith famously said, "There's nothing to writing. All you do is sit down at a typewriter and open a vein."
Want to know more about Bog? Here's a sneak peak.
What is Bog about?
Deep in the forests of Northern Ontario, a cave troll named Bog has spent his young life hunting with his father, Jeddal, learning what it means to be a troll, and avoiding humans whenever possible. Until someone called the Troll Hunter begins turning trolls to stone, and teaching other humans to do it, too. When the Troll Hunter's followers turn Jeddal to stone, Bog learns a dark secret about his origins that his father had tried to keep hidden: Bog is half-human.
Struggling with this news, Bog sets out after the Troll Hunter to avenge his father. On his quest, he's joined by a large forest troll named Small and a human girl named Hannie, who would rather pretend to be a troll than return to her abusive father. As they venture deeper in human territory, Bog learns of the legendary Nose Stone, a rock rumoured to bring a stone troll back to life. When the Troll Hunter seeks to destroy both the Nose Stone and Bog, his quest becomes a race of cunning, trickery, and wits.
Where did the idea come from for the book?
I first conceived Bog after the attack on the World Trade Center in New York City and the ensuing war on terror. I wanted to write about cultural bias fostered by learned hatred from previous generations. But the novel is also a reaction to ethnic conflicts the world over – anywhere where there is hatred against another culture instead of acceptance and understanding of differences.
Why write about trolls?
I chose trolls because, in literature, they're traditionally considered vile to humans. The point of view of a troll character sets up humans as "monsters," asking what morals and values makes us human versus monster. For me, the novel explores what it means to be human as well as the journey from hatred to tolerance.
January 13, 2013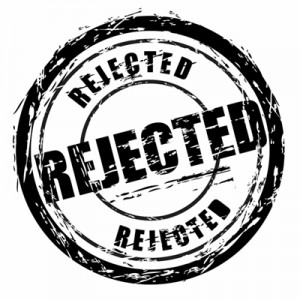 One of the hardest things about being an emerging writer is receiving the dreaded rejection letter. But why do we call them "rejection letters"? And is that really what they are?
As writers, we obviously have a good grasp of language – in particular, how to choose a certain word or words to serve a specific function in our writing. So I'd like to challenge the term "rejection letter" and even re-name it to be more accurate. I came up with three replacements:
The Not-the-Right-Fit Letter
Too many beginning writers send out a manuscript to publishers or agents without fully researching their current needs, preferences, and even submission guidelines. One of the most common reasons for a refusal to publish or represent is that the manuscript is not a match to their needs. So do yourself a favour, and read the books championed by each publisher or agent you submit to. You will have greater success if you correctly target your manuscript.
The Perfect-Your-Craft Letter
Sometimes, a close reading of a manuscript shows that the writer has more to learn before his or her work is ready for publication. This doesn't mean that you're a failure; simply that you're still learning the craft. Read the writing of authors you admire to discover new techniques, take a course with an experienced and supportive author, and/or start a writing group to exchange feedback on your works-in-progress. Learning more about the craft will get you closer to your goals.
The Manuscript-Sent-Out-Too-Soon Letter
A manuscript that is almost ready is not ready enough. How will a publisher or agent know what you're capable of writing if you're not presenting your very best work? Get feedback on your work-in-progress before you send it out, and rewrite until the prose is beyond polished. It will take many drafts to produce a polished manuscript, but it will give you a much better chance of getting the result you want.
***
Okay, so my new terms may not be as catchy as "rejection letter," but they are more accurate and they're not as discouraging. They imply that writers who receive one of these letters don't need to give up, wallow in despair, or throw out a manuscript. But they may need to further research their market, perfect their craft, and/or revise, revise, revise.
The only way forward to publication is to take the next step, continuing to write and re-write with increasing knowledge of the craft and a clear vision of the marketplace.
December 14, 2012
CBC Canada Writes and CANSCAIP – The Canadian Society of Children's Authors, Illustrators and Performers – have joined forces to celebrate two weeks of "Seusstivus" with Canadian children's authors. Go to the CBC Canada Writes website for:
writing tips from children's authors Robert Heidbreder, Helaine Becker, Lena Coakley, Marty Chan, Kyo Maclear, Jack Wang, Jonathan Goldstein, Carol-Ann Hoyte, Lisa Dalrymple, Richard Thake, Sara O'Leary and Frieda Wishinsky.
new Seussian words coined by children's authors.
a Seusstivus Twitter Challenge on Tuesday, December 18. You can check out the winning entry here.
There's also a Q&A with me in my role as CANSCAIP President included here. Happy Seusstivus!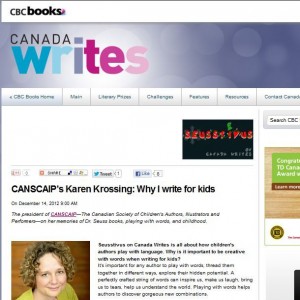 December 1, 2012
I've always been a little jealous of writers who participate in NaNoWritMo – National Novel Writing Month. Writing a novel in a month! A collective word count of 3,288,976,325 for 2012 alone! But my writing process follows a different path, and NaNoWri Mo hasn't "fit" with it yet.
Then I heard about the inaugural PiBoIdMo – Picture Book Idea Month. Created by author Tara Lazar, PiBoIdMo is a 30-day challenge for picture book writers. Tara's idea is "to create 30 picture book ideas in 30 days. You don't have to write a manuscript (but you can if the mood strikes). You don't need potential best-seller ideas."
I'm not a picture book writer, but I liked the idea of creating story concepts, and decided to write a novel concept a day for the month of November. The experience has been enlightening.
Here's what I learned:
I became more aware of the world around me, and I searched for story concepts wherever I went, whatever I did. I'm always collecting snippets, for example, an outfit of someone I see on the subway might appear on one of my characters in my work-in-progress. But this awareness of the world became heightened as I felt the pressure to write a concept a day, resulting in a fresh inflow of ideas.
I became more practised in the art of defining a story concept in one-sentence – with a setup, confrontation and resolution. My novel concepts each day were not always complete. Sometimes, I would have only a setup or only a character with no discernible action for her to take. But over the days, some of those concepts became more complete and polished.
I found myself revisiting themes over the month, exploring a similar story concept from different angles and approaches, even using different genres (contemporary realistic and fantastical) for the same concept. As a result, I felt I explored more thoroughly what would be the best story concept for a particular theme that I wanted to write about. I think this will make my future novels stronger, since I'll have a more considered story concept from the start.
I remembered how to "play" with my story concepts, having fun with absurd story concepts as well as sensible ones.
My conclusion? I will do it again next November. Because envisioning a story concept is an important skill to practise. Because playing with story concepts is fun and enlightening. Because I emerged with two solid story concepts that I plan to write one day.
I look forward to NoCoWriMo – Novel Concept Writing Month – next year! Maybe you'll join me?
November 5, 2012
I've just returned from four days at the the World Fantasy Conference 2012 with my head full of stories, ideas and full-blown debates.
Like how to make real silver bullets (learn how on the site of author Patricia Briggs), just in case you come across a werewolf.
How the windigo – a mythical cannibalistic spirit – is seen as a metaphor for the capitalist consumption of Native resources on today's reserves.
And how the popular plot line of  "romancing the monster" in fantasy literature – for example, in the Twilight series – can represent our desire to believe that people are capable of change.
It may be stating the obvious, but writing fantasy literature is not really about the wonderful imaginary worlds and their creatures that we enjoy reading about. Because authors are of this world, inevitably when we write, we're commenting on the reality in which we live every day.
One panelist at the conference commented that, "Writing fantasy brings me closer to reality." So an examination of the monsters we write about can show us the monstrous side of humanity. The dark horror of a gothic novel comments on the mood of despair, decay and disease we may find ourselves in.
I like to write both gritty realistic fiction as well as speculative fiction. But no matter which one I'm writing, it's always a reflection of the world that I see around me.
September 27, 2012
On a sunny summer's day, I enjoyed coffee and conversation with author Lena Coakley as she interviewed me for a profile in the quarterly publication of CANSCAIP – the Canadian Society of Children's Authors, Illustrators and Performers. A full version of the article is available to CANSCAIP members, including a discussion of my works, writing process, where I get my ideas and more. Thanks to Lena and CANSCAIP for the article!
Favourite quote from the article:
"Sarah Harvey at Orca Book Publishers calls [Karen] 'professional, responsive, flexible, insightful, humble and funny. In short, an editor's favourite kind of writer!'"
Thanks, Sarah! I'm thrilled to be working with author and editor Sarah Harvey again, writing one of the first two books in Orca's new Limelights series, featuring novels for teens about the performing arts. In my novel, Cut the Lights, the director of a student-written play is at odds with her cast, until the attempted suicide of the lead actor forces them to work together. Cut the Lights will be published in Fall 2013.
July 12, 2012
Have you been wishing you could attend a conference or workshop to improve your craft? Network with others in the writing and publishing community? Learn a new technique? Keep up-to-date on trends and issues?
Professional development is important for all these reasons. But – let's face it – conferences and workshops are not always affordable, particularly in far-off locations.
So how can you get there? One way that published Canadian creators can get funding to attend conferences and workshops is through a professional development grant from the Access Copyright Foundation.
The Access Copyright Foundation was created to promote and support Canadian culture by providing grants to encourage the development of publishable works. They also offer research grants and events grants. The professional development grants are available in literary or visual arts for individuals or organizations, and they will fund up to $3000 of expenses related to a workshop, seminar, conference, mentorship, studio program, etc. The deadline for this grant is May 1 of each year. For more information about the Access Copyright Foundation (which is administered by the Saskatchewan Arts Board), click here.
This week, I was thrilled to learn that I received a grant from the Access Copyright Foundation professional development program. Next February, I'm going to the Society of Children's Book Writers and Illustrators 2013  Winter Conference in New York City! I can't wait to network and develop my craft further.
This grant program is an awesome opportunity. Mark May 1 on your calendar and don't forget to apply.
June 10, 2012
A good editor knows how to ask the questions that nudge a writer deeper into the story. When an editor can do this, I know my story is in excellent hands.
But before the story ever reaches the editor, I need to act as my own editor – ask those questions of myself to produce the best quality story that I can.
Yesterday, I attended New York City agent Donald Maass's Fire in Fiction workshop, based on his book of the same name. If you're looking for the right series of questions to ask about your work-in-progress, Maass will steer you straight.
I left the workshop with an arsenal of writer's tools in the form of questions designed to deepen character and build the world of the protagonist to have a greater impact on the readers and get them more emotionally involved.
Want an example? When Maass observed that some fantasy and historical stories have under-developed political structures, he spontaneously developed this set of questions:
What are the distinct social classes in your story?
Which characters in your story come from each of these classes?
How will the reader know these characters are from a certain class?
How does the protagonist see the social classes?
Who is going to change the social class structure in the story?
Who is going to move from one class to another? How is this character going to change because of the move?
What is one thing that is ironic about one of these social classes?
Pick two social classes and find out what is in conflict between them. Is there one class that has a grudge against another? Is one group being repressed? If so, how?
What is unfair in the social class system of your story?
What one law or situation is unjust in the community?
Writers can use the questions that Maass has developed to deepen their stories and inform about their characters. For more insights, check out The Fire in Fiction.
To take this idea further, why not try Maass's method for yourself? When you're troubled by some aspect of your work-in-progress or looking for ways to revise a manuscript, consider developing your own series of questions around the issue. Answering those questions could bring unexpected insights and better prepare your novel for that editor or agent.
May 16, 2012
I recently wrote an article for the Canadian Society of Children's Authors, Illustrators and Performers. It seemed important enough to spread to the wider world, so here it is on my blog!
When people learn what I do for a living, they often tell me about half-finished novels and wonderful picture-book ideas they plan to complete. So how can they put their plans into action? Check out my six tips for aspiring creators:
Get to Work
"Put your bottom in the chair and pick up your pencil." That's what my mother, who taught grade 1 for twenty-five years, would say to her students. She has a theory that adults are just six-year-olds in big bodies, so perhaps her simple directive can apply to us, too. How many people do you know who plan to write or illustrate a book – one day? My mother's idea is if you "pick up your pencil" you're more apt to do something productive with it.
Everyone needs to find his or her own creative groove, but I try to write every day, and I know illustrators who try to sketch daily – like Debbie Ohi who aims for a daily drawing, which she posts online at DebbieOhi.com. Even during a busy day, I usually have time to jot down 200 words – the minimum daily output I aim for when writing a first draft. The words don't need to be well-written – a first-draft always needs revision. But it's a start. And daily writing or illustrating helps to keep the creativity flowing.
Make Connections in Person
Since I most often write in the quiet of my home office, I have to make a conscious effort to commit to events that will connect me with others in the industry. But whenever I do hoist myself out of my chair and get out there, I'm inevitably glad that I did.
I've found that other creative people can offer invaluable support, encouragement and even mentorship. It's also helpful to share knowledge, techniques and experiences. Even better, I set up mutual critique exchanges with other creators to determine how to revise a work-in-progress.
Publishing professionals can provide valuable insights into how the industry operates as well as trends and current issues. Ideally, these connections can lead to that first publishing contract – and many more.
Obviously, formal events like CANSCAIP meetings and conferences are a great place to make connections, as well as informal one-on-ones over coffee or at critique groups.
Make Connections Online
Social networking is your friend. YouTube is a forum to showcase your work. A website or blog is a valuable promotional tool, whether you're published or not.
Online connections are as important as in-person ones, and they can provide numerous opportunities to connect with other creators and even publishing professionals. It's also an opportunity to connect with your audience – the kids or teens you're targeting as well as librarians, booksellers and others who make decisions about books for kids. In addition, publishers like authors and illustrators to have a strong online presence, even before you're published.
My advice for making online connections is to find a balance between sharing personal experiences and professional ones. We need to market ourselves and our work, yet show a personal side, too. Avoid over-sharing, and respond to others' posts to help make connections.
Perfect Your Craft
Mastering the craft of writing or illustrating can take a lifetime. Part of the challenge of a creative life is that every project brings new obstacles to overcome.
I periodically ask myself: What can I do to improve my craft? Maybe a course would help refine a particular technique. Maybe a conference would give insights into a particular genre. Maybe a critique group would help polish a work-in-progress.
Another option for getting feedback is CANSCAIP's Blue Pencil Mentorship Program. It puts you in touch with a professional children's author or illustrator (for a fee) to receive a personal critique of your work.
Go Deep
First thoughts are only a starting point. Every creative idea can be taken further, explored in more depth, mined for gems.
A common mistake of aspiring creators is to submit work to publishers before it's ready. Considering that you typically get one shot with a publisher, make sure it's your best work.
With that in mind, I suggest you revise, revise, revise. Here's how you can do that:
Put the work away for a few days or weeks. Then try to view it with fresh eyes. What works and what doesn't? How can it be improved?
Get constructive feedback from people whose opinions you trust. Evaluate their feedback to determine how you want to revise your work.
Revise.
Repeat this process until you can't possible make any further improvements. Then repeat it one more time.
Keep at It
Once, when I was an unpublished writer, I sent an impulsive email to an author I admire – Karleen Bradford (KarleenBradford.com). Since I was feeling discouraged at the time, I was looking at her website because she had useful information for emerging writers. In my email, I asked her for advice on how to get motivated to continue writing after a rejection letter from a publisher. I never really expected an answer, but I got one quickly. Karleen wrote something like, "A writer's greatest talent is sheer pig-headed stubbornness." Her words helped me pick up my pencil and return to my story once again. I've found Karleen's words to be true over and over again.