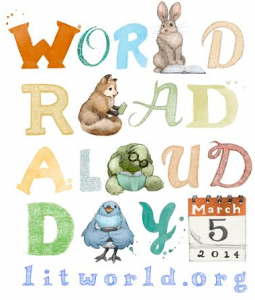 March 5, 2014, is World Read Aloud Day – LitWorld's annual advocacy campaign for the human right of literacy. The goal is to call attention to the importance of reading aloud and sharing stories. Imagine a world where everyone can read!
Let's face it – words have power. They can unite us to a cause and move us to cry, laugh, or smile. Sharing words has always held an important place in my life.
Some of my fondest memories as a kid are of reading A. A. Milne's Winnie-the-Pooh books aloud with my mother, each of us taking turns reading the characters' voices. I always preferred to be Piglet and Tigger, and my mother can still do an excellent Eeyore.
As a parent of young kids, reading before bedtime was an opportunity to connect  after a long day, and my kids and I can still recite books like Loris Lesynski's Dirty Dog Boogie and Robert Munch's A Promise is a Promise from memory. On family holidays, we always picked a novel to read aloud together. Today, all the books we read aloud together still hold treasured memories.
One special memory came when we were reading The Tale of Despereaux by Kate DiCamillo. My partner and our daughters had travelled to a cabin in Algonquin Park with my parents. I'd carefully selected a book to read aloud that I hoped would interest everyone. After I read a few chapters, I was delighted when my father picked up the book and read the next chapter. He couldn't wait to find out what happened next, and he greatly enjoyed reading aloud. During that holiday, we passed the book around, taking turns reading. My parents even planned to begin reading aloud together at home.
Another fond memory I have is of my two daughters reading aloud together from books like Camp X by Eric Walters. My eldest would most often read, while the youngest listened, perhaps painting her nails or tidying her room. When my youngest had to leave the room for a moment, she would say, "Pause," and push her imaginary pause button in the air. My eldest would stop reading, and wait impatiently for her return.
Today, I still enjoy reading aloud with family and with my writing group as we critique each others' works-in-progress. Reading aloud creates a shared knowledge, a community, and strong relationships. It empowers and it strengthens. On World Read Aloud Day, we can advocate for every child's right to a safe education and access to books and technology. One book at at time, we can show our support for the right to read, write, and share words that can change the world.
To celebrate World Read Aloud Day, I've created this video below, reading a scene from my upcoming middle-grade fantasy novel titled Bog. Please listen, enjoy, and share it. What will you read aloud today?
To see more Canadian children's book creators reading from their books, go to the Canadian Children's Book Centre on YouTube. Thanks to the Book Centre for organizing this initiative!