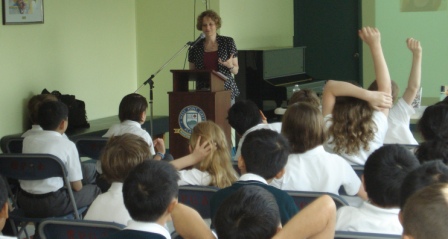 The purpose of Karen's book talks is to promote literacy. Her talks usually include how she evolved as a writer, the writing life, an introduction to the work, a short reading, a discussion of issues raised by the reading, an oral storywriting exercise involving the audience, and questions and answers. She introduces her books by discussing how they were written, how a story is structured, and the writing techniques used. Her goal is to inspire audience members to share her passion for reading and writing.
The ideal audience is not more than 100 students. This session is suitable for grades 4 through 12. All book talks last approximately one hour.
For grades 4 to 6, Karen will showcase her middle-grade novels: Bog, The Castle Key, and possibly Cut the Lights. Issues such as tolerance and believing in oneself may be discussed.
For grades 7 to 12, Karen's novels and short stories for teens will be highlighted, including Punch Like a Girl, Cut the Lights, The Yo-Yo Prophet, Pure, and Take the Stairs. Issues such as bullying, depression, social justice, and prejudice may be explored. Performance and visual arts are also featured in these titles.
Karen also presents at conferences, including keynotes and workshops.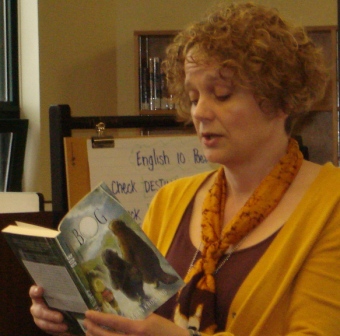 Fees
For current rates and availability, please contact Karen, or Marsha Skrypuch and Valerie Sherrard of Authors' Booking Service at abs@authorsbooking.com. Funding assistance is available through The Writers' Union of Canada Readings Subsidy Programs.
Testimonials
"A superb speaker and workshop presenter, Karen Krossing loves to nurture young writers and help them reach their potential."
Kingston WritersFest
"Working with Karen is always a pleasure. She is very responsive and organized, and her enthusiasm, energy, and commitment have made her an excellent addition to all library projects she has been involved in."
Ken Sparling, Communications Officer, Toronto Public Library
"Thanks very much for your interesting and well-received talks at Surrey Public Libraries. It was great that the kids were attentive and had so many questions at the end. I heard the comment that your presentations were 'inspiring!'"
Melanie Boyle, Information Services Librarian, Surrey Public Library
"The students told me that they really enjoyed your visit, and I've had a number of requests for your books in the library! They also loved the writing activities you did with them and kept talking about them in the class following your presentation. Thank you again for a fantastic session!"
Jennifer Kugelman, Teacher-Librarian, Hugh McRoberts Secondary School

"Students benefited greatly from hearing Karen discuss the process behind building a book and editing. She also had some very practical advice for students, such as what to do when they experience writer's block, and the children realized how much re-writing and editing is required to create a publishable piece of work. Many children were interested in reading Karen's books after the presentation."
Grade 7 Teachers, West Point Grey Academy

"Karen really inspired the students, and it was a pleasure having her here. She did a great job, and I would highly recommend her."
Claire Argyropoulos, Youth Services Specialist, Barbara Frum Library
"The young audience you saw at your talk has expressed to me at various occasions how much they enjoyed your talk, your presence, your personality, your writing, and your communication skills."
Irene Tsai, Wexford Collegiate
"[My grade 9s] thought you spoke very sincerely; they felt connected because of the personal anecdotes and questions; they liked the sound of your voice and thought you read very well."
Liz O'Brien, Unionville High School