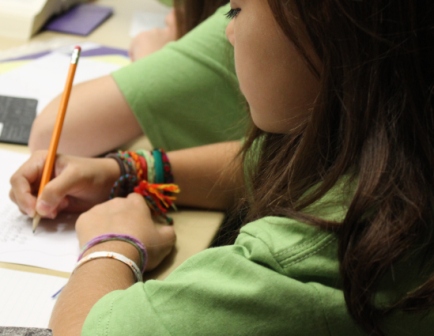 Karen regularly mentors emerging writers through workshops for kids, teens, and adults. Recent writing workshops include Sophie's Studio Workshops, MASC Young Authors & Illustrators Conference, SCBWI Canada's Art of Story Conference, Kingston WritersFest, London Book Camp, and the Toronto Public Library's Young Voices Conference. She has been an editor and workshop leader with the Toronto Public Library's Young Voices Magazine of teen writing and art since 2007, and she's been a children's writing instructor at Centennial College. She's also a former book editor.
Karen delivers customized writing workshops for all ages. Workshops typically include a discussion of specific story-writing techniques as well as inspirational writing exercises designed to generate story ideas and practise particular techniques. Karen's technique promotes intuitive writing using a variety of stimulating activities, including word games, masks, story dice, photos, and character games. Writing is then shared through peer critiquing, using positive and constructive feedback techniques.
Workshops can run from one hour to several days, depending on content. The ideal audience size is a maximum of 30 participants, although larger groups can be accommodated.
Possible workshops include:
StoryPlay Workshop: Explore how to build stories by making up imaginary creatures, playing with story dice, inventing stories together, and writing your own stories. Fun word games and shared story writing, with take-home ideas for more story play.
WordPlay Writing Workshop: Who says writing isn't fun? With fresh and inspiring story-starters, you'll explore new characters and create captivating scenes. Spark your imagination and enjoyment of words while learning creative writing techniques in this hands-on workshop. For a a sample of my WordPlay writing techniques, click here.
How to Create a Believable OtherWorld: Whether you write about unicorns or alien planets, an imaginary world needs rules and structure in order to be believable. In this workshop, you'll learn how to create a fully imagined fantasy or science-fiction world and the characters who live there.
Stories Inspired by Real-Life: Explore how moments such as an early memory as a child, a conversation overheard on the bus, or your family history can spark fictional or memoir writing. Create scenes, learn creative writing techniques, and get constructive feedback on your writing.
Villains and Heroes: Learn how to develop characters and scenes by creating your own villains and heroes in this hands-on workshop.
How You Can Get Published and Other Mysteries Solved: Learn where young authors can submit, how to submit, and how to revise a first draft. An informative and friendly workshop for teen creators, with writing exercises to practise skills.
How to Build Character: How can you get a thorough look into your main character's mind before writing? And after you do, what writing tools can you use to reveal that character? Tips to develop and reveal character as well as writing exercises to practise these tips.
How to Revise a Work-in-Progress: A piece of writing that you want to submit for publication needs to be the very best you could possibly write – then you need to find a way to make it better. Learn how to polish your good idea until it sparkles, attracting the attention of an editor at a publishing company.
From Character to Story: What does your hero want? Who blocks your hero from achieving this goal? What action does your hero take to overcome this blockade? This hands-on workshop explores how to structure a story by answering questions like these.
Writing for Children: An overview of the field of children's writing, including how to generate ideas, develop believable characters, understand genres, edit your writing, and market and promote your work.
Facilitating a Writing Group: Karen has facilitated writing workshops for ages eight to adult for over ten years. Learn how to run a successful writing workshop, from a lunch-time drop-in club for kids to a professional critique group.
For current rates and availability, please contact Karen, or Marsha Skrypuch and Valerie Sherrard of Authors' Booking Service at abs@authorsbooking.com. Funding assistance is available through The Writers' Union of Canada Readings Subsidy Programs.
Testimonials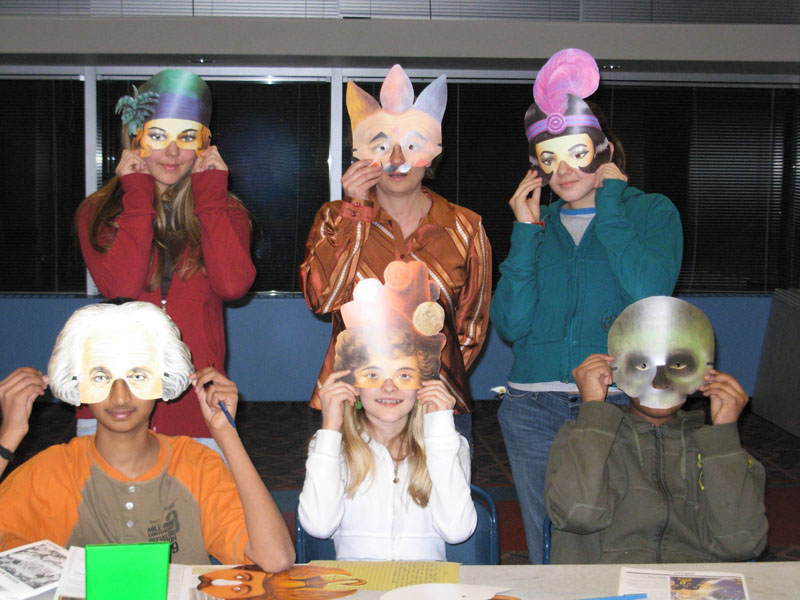 "Karen is relatable and motivates young writers to reach their full potential."
Audrey Churgin, Executive Director, MASC Young Authors & Illustrators Conference

"Karen Krossing presented an incredibly engaging and inspiring workshop. Our campers were able to let their imaginations run wild while feeling confident that they had the writing skills to enhance and further develop the worlds they imagined for their stories."
Nicole Robichaud, London Book Camp

"Karen engaged the students with exciting writing prompts based on their everyday experiences. She was positive and encouraging as students shared their work with the class. The question-and-answer period provided the students with insights about her writing process. The grade 6s left eager to continue writing their pieces, and to access her novels. Karen's emphasis on the editing process, and moving through 'writing blocks' was appreciated."
Grade 6 Teachers, West Point Grey Academy
"After Karen's writing workshops, my students were so motivated that they set their goals high and began producing the beginnings of novels for their fantasy stories. Some of their best work this year came from Karen's workshops."
Kris Madill, Grade 5/6 Teacher, Beaches Alternative School
"Your workshop was very enjoyable, and the girls thought you were inspiring. They really enjoyed the exercises, and you gave them a lot of good tips. I hope you can come back soon to give us more of your wisdom and insight."
Claire Argyropoulos, Youth Services Specialist, Barbara Frum Library
"Karen's writing program was well received, and both teachers also gave me positive feedback. She really got the kids writing well.  I was amazed to see the quiet fury and the amount of writing they got done in a comparatively short time. They also really liked the exercises."
Patrick Gracey, Librarian, Hospital for Sick Children
"Karen Krossing is a superb presenter with a wealth of knowledge and a dynamic, passionate, and clear way of communicating her ideas. Karen's disposition is so positive, confident, genuine, generous, and full of great karma."
Participant of a writing workshop
"It was impossible to not have fun in the workshop because Ms Krossing is a great teacher and the activities are really well thought out. The writing workshop was very useful for me and other students who like to write, but just can't get that professional polish on their work."
Sanjeev Narayanaswamy, writing workshop participant
"The WordPlayers program, a lunchtime writing club devised and led by Karen Krossing, was an exciting project. The children's ideas were greeted with enthusiasm and built on in a constructive way. They learned to critique each other positively and to listen in a welcoming and empathetic way. Wherever Karen is able to present, I am sure that the participants will benefit from her knowledge of the writing process and her kind and encouraging manner."
Martha Cunningham, Librarian, Presteign Heights Public School
"The workshop in my opinion was freaking awesome. I enjoyed it a lot. I love to write. It is one of my favourite pastimes. It helps you figure yourself out as well as clear your head. The only thing about the workshop that I did not like was the fact that it was rather short, and in my opinion, it would have been more effective and entertaining if we were able to have you come back for a full day! The one aspect of the workshop that I really enjoyed is that the creativity level of each participant was phenomenal. Everyone was really creative, motivated, and descriptive in their short stories."
Workshop participant at Covenant House